The Lizard Head Quartet Gets Down With Funk and Jazz-Fusion at Durango Hot Springs
The Lizard Head Quartet, a fusion band based here in Durango, Colorado, played a marvelous performance at the spectacular venue of Durango Hot Springs on Thursday, October 13th, 2022. 
Getting together amidst a worldwide pandemic in 2020, the now-named Lizard Head Quartet started as the McCurry Organ trio. It was named after one of the past band members, Ryan McCurry, who was also a music teacher at Stillwater Music here in Durango.
To begin, McCurry, Kevin McArthy, and Clay Lowder played as a trio. McCurry played both the bass and the organ. It was a lot to handle for him. Over time, the quartet welcomed a new member, Evan Fricke. 
Shortly after, McCurry and his partner Stella McCurry (who was not a part of the band) moved to the front range, and his spot in the band had to be replaced. It came as "a bit of a shock to the community," as Clay Lowder stated in an interview, to have McCurry leave because he was such an influential member of Durango. 
They acquired a new piano player, Jack Manes, who was not present at the concert played last Thursday. His substitute was a woman named Wendy Macbain, a talented piano player who, up until their most recent performance, had never even played with the band. The band met Wendy during one of the bi-weekly jazz performances played at 11th Street Station on Tuesdays. 
The current band, including Fricke, Lowder, Kevin McCarthy, and Manes, has only been together for a month and perform concerts for the public. 
Music and Inspiration
The band is working on creating songs using inspiration from bands and artists such as Weather Report, Herbie Handcock, and Vulfpeck. Last Thursday, however, the band did covers of various bands and artists, but, as Clay said in an interview at Durango Hot Springs, "we're putting our stamp on the songs." This means that the Lizard Head Quartet is putting its spin to make them sound unlike the previous songs the quartet has created.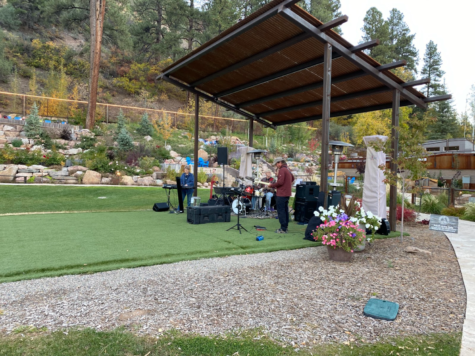 Band Members
Evan Fricke joined that band shortly after Ryan McCurry left the band. He moved to Durango to attend Fort Lewis College and had music as a side gig and hobby rather than a job. He lives in Durango with his partner Lindsay and their child.
Kevin McCarthy began playing music in third grade at his Catholic school when, as he stated, "the nuns discovered I could sing and play. I don't know how that got out" He was then put in a band, playing various instruments, going around to various retirement homes, and playing music for the retirees. Later, he and his friends were in a cover band for The Beatles "before they got famous," he said. Even though Kevin has a history in music, he went to college and got a degree in geology. He moved to Durango for its geological wonders and how close and connected it is to nature.
Clay Lowder, a music teacher at Stillwater Music in Durango, was one of the band's original members. He helps young musicians express their talent in music at Stillwater.
Jack Manes was not present at the performance on Thursday, but his band members mentioned that he was in the music program at Fort Lewis College.
Celebrity Gives a Congratulations
When the band was playing at a venue at 11th Street Station, two weeks before their performance at Durango Hot Springs, a man came up to them at the end of their performance and told them that they played well. They did not recognize him, but another man ran to them and asked the band if they knew who he was. They said no, and the man told them that the man who had just congratulated them was a famous musician and songwriter, Neil Diamond. When the band was playing at that venue, they had only been together for two weeks.