A Display of Talent and Hard Work
Each year Durango High School has an art display to show the hard work of the art students. Along with showing the work off, it is the art final for the classes. There are many different forms of art seen at the display such as water color, ceramics, sculpting, acrylic painting, and oil paintings. 
Delia Bong, a freshman at Durango High School and an art student painted a portrait of her little sister, Avika, using acrylic paints. Bong commented that the message she wants to give is the "joy and how much happiness she gives and brings to everybody she's around." When asked how she feels having her work on display she states that, "it feels weird but I think it's doing what I intended for the piece." 
Maggie Howell is also a student at Durango High School and made trees out of wire and beads. Howell says that the trees "show life and death because it's two different trees, one showing a dead tree and the other showing life." Howell's favorite part of making the tree is adding the beads and she explains the process of adding them which is, "you add them on there and twist it until it holds it." Howell also says that the trees are, "supposed to be whatever the viewer interprets."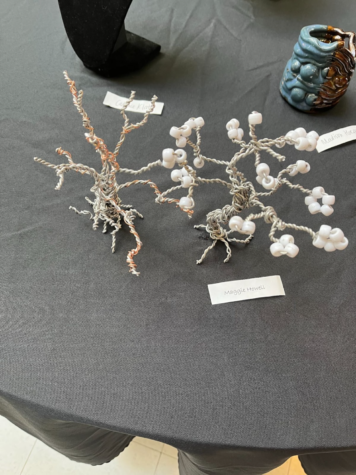 Mena Ziegler, another freshman at Durango High School, made a watercolor painting of a room with jellyfish in a tank and a window showing a waterfall outside. Ziegler saw jellyfish in a painting which inspired her to include them in her painting. The title of the piece is "Even Rich People Have Cobwebs… the idea was that there's still bad things in beautiful places." During the process of making this piece she enjoyed the community because, "we all sat at different tables and you got to see other people create art around you and were all working together and asking for feedback and I really liked that part and the community of it." All five values are seen in the colors going from darkest to lightest in the painting and Ziegler states that she used these values to, "create more realistic pieces and to create shading." The feelings that Ziegler hopes to get across when people view this piece are, "interest in it and the creativity of it."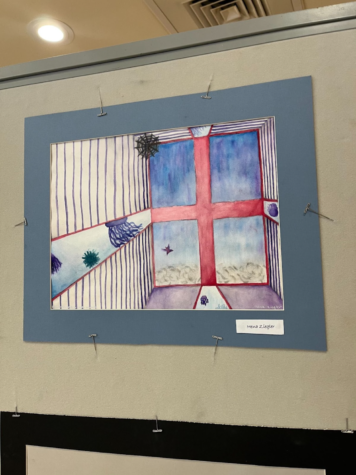 If you need something to do, stop by the Durango High School Art Display in the commons and take a look at all of the creative pieces students worked very hard to make. From portraits to landscape, the display has it all. The more you look at every individual piece of art it brings feelings and new ideas to mind that could inspire you to make your own work.