When homecoming was here there were so many ways to get involved! The week of homecoming started October 16th and went through October 20th up until the dance on October 21st. Spirit week kicked off and all the many exciting activities commenced. On October 16th was Macho Man, October 18th was our homecoming parade, powder puff was on October 19th and finally, the homecoming football game was on October 20th.
A lot of groundwork goes into homecoming and all of these wonderful activities. One that stands out is the parade. This year the homecoming theme was Out of this World. Each float had their own intergalactic theme. To make this fun celebration happen, a lot of things need to be executed and approved. Michelle Flom is the Student Council advisor so she oversees all of the homecoming events. When executing the parade a lot of effort is needed, "…we do have to get approval from every business downtown in order to close off the streets, we have to be able to put up signs on all of the parking meters that say we can't park there…we've talked about doing homecoming earlier in the year but the logistics of it wouldn't even allow for that." Homecoming events are an ambitious process but when they get it done the results are amazing. 
There have been a lot of meetings for the event talking about what times you need to be there parade day, what times to meet to build the float, safety issues and so on. Each club and group needed to build their own float. Your club or student council members would come up with times and places to meet up to create the float. This is the second year that DHS has had a homecoming parade since they took a break. We don't exactly know why we had to pause having a parade but student behavioral issues play a big role in it. The homecoming parade has been a big tradition at DHS for many, many years. Being able to bring back the parade after so many years was really special. There was one person in particular who brought it back. Molly Martinez was the DHS student that brought back this wonderful event. There was a lot of behind the scenes work that went into bringing this back. Martinez said, "I had a few meetings to communicate with city officials the day of and get permission for everything as well as a permit." Martinez worked so hard to bring back this great event for DHS and we owe it all to her, "there was a lot of trying to hype the parade up to businesses and the public as well as teachers and the student body. I really wouldn't have been able to put it on if it wasn't for the help of my StuCo advisor and admins help." Martinez also said. This tradition was fatefully cut, but because of Martinez's determination we got it back!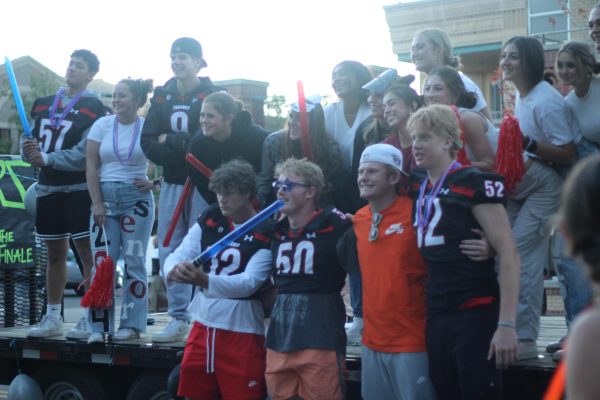 Now what happens on actual parade day? Well, it's a tight schedule. Students and club members were expected to be downtown at 5:15, at 5:30 everyone starts staging, and at 6 they are off! The parade floats start at 2nd ave and 5th street and go all the way down to Buckley park where they get off the float and the drivers drive their float to the fairgrounds for it to be disassembled. While on the float, people were waving and passing out candy and glow sticks. The sidewalks were packed with many people with smiles on their faces. So glad we get to keep this enjoyable tradition alive!