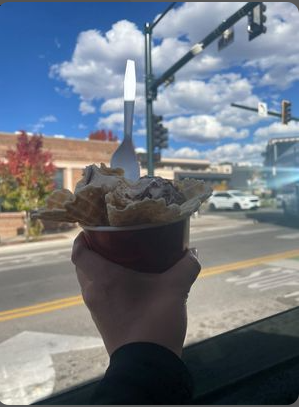 Durango, Colorado is a hot spot for tourists and expanding families to visit and move to.  With an abundance of fun activities all year round, great food, and a fun family atmosphere, it makes sense so many adventurers move to this little mountain town. As locals we might not love the crowded parking lots or expansive traffic yet it's not so bad when a cute new kid is sitting in your boring little math class. When they ask you out you'll have the ins and outs of all the best ice cream spots.  
Starting from the top of main street and going down; Cold Stone is a great option based on flavor and scenery. Cold Stone offers one sizable glass display to showcase the new flavors of the season. I love a half scoop of pumpkin spice batter and half scoop of vanilla bean with a chosen roll in of pecans in the waffle cup sized "love it", (8 oz) the other sizes are "like it", 5 oz, and a "need it" (12 oz) The roll ins are literally rolled in on a chilled steel countertop. A very industrial take on ice cream yet the shop still gives a very homey vibe. Although the store is a little small for indoor seating, the views of downtown Durango on the outdoor patio are perfect for the warmer season. As I sat outside the warm air met the ice cream and created equilibrium in my soul. The pumpkin spice and vanilla I had chosen lived up to the hype. The pumpkin spice literally tasted like the batter of the pumpkin spice pancakes my mom would make us the morning after fall sleepovers. The texture was smooth, and kinda thick but still creamy. I would indubitably say it was a fire scoop of ice cream. Yet I wish I would've gotten a "like it" because the love it was huge for me and I ended up throwing away a good amount of melted ice cream. Yet it was the perfect balance of sweet and the earthy flavor the pumpkin gives. I'm giving the experience a 6/10 due to the ice cream melting all over me and the lack of indoor seating. 
Magpie's in Durango specializes in gelato over ice cream but they offer a variety of other summer treats. If you're looking for an inexpensive boba to win the cute new kids heart I recommend the strawberry boba! The gelato on the other hand just didn't give me what I was looking for. I love a creamy ice-cream and you don't find that with gelato. If you want a potent fruity treat you could get the gelato from Magpie's but it doesn't offer the vibe or flavor the other stores on this list do. I got a blue raspberry jolly rancher gelato, the owner Jo said this was one of the more popular selections. While it did taste a lot like the favored jolly rancher it was too sour of an ice cream for my liking. However, that new kid from California might just love it! The store is exactly what every tourist is looking for. There are cute little keep-sakes and it has that "passing through" vibe that doesn't resonate as an ice cream shop, for me or the other locals I visited the store with. I do however enjoy the location. The site offers a very busy view of downtown Durango. You can take your gelato with you and drive up to one of the little outlooks of Durango located behind our little local college. I'd tell you to make your move here but I don't condone that. Instead take in the sights of the town, either way if you take your ice cream with you or stay at the shop you'll experience a spot so central yet simultaneously out of the way. You truly enjoy the friendliness of downtown Durango while still maintaining privacy and shade with the canopies above the patio or get some privacy with some sick views and an opportunity to really get to know your date as the sun sets. But I personally love the vibe that a local ice cream shop gives. But you can't get that with Magpie's or a private outlook. 
There are so many reasons Cream Bean Berry is my favorite artisan ice cream store. The aesthetics is definitely my favorite part. I went this weekend with some girls after dinner at Seasons and as you walk in you smell the waffle cones' vanilla aroma fill the store, mixed with the warm sense of fun an ideal local ice cream shop might have. The store transports you to a time when you were filled with childlike joy and curiosity. As I reach for my second sample spoon I fall in love with the decadent richness the coconut milk chocolate fudge gifts me. I get two scoops on a waffle cone. A dream. An ice cream I want to finish and won't regret. Yet, that's not even my personal favorite! The honey lavender is a bucket list worthy ice cream scoop. There's something about an earthy herbal taste with honey that soothes one's nervous system. Balanced with the sweetness of the waffle cone and the pastels of the room around me, the younger version of myself that lives within me does a little happy dance. Completely content.  Ask any local and they will insist Cream Bean Berry rules supreme.
Baskin Robbins in Durango is located in the North City Market parking lot which is convenient if you want to grab some dinner or maybe a Starbucks to pair with your ice cream or smoothie! The 31 flavors offer consistency and you can bet that I find peace knowing that there's a little bit of stability in this ever-expanding mountain town. When there's a new hotel or new Dunkin Donuts at least I can rely on Baskin Robbins to have a good ole' rocky road. The store is industrial to the extreme. Not super techy but super sterile. It's cleanly in a sense that doesn't give a local hometown ice cream vibe the way some of the other stores do. The walls are barren and there are three tables placed in the corners of the room. Luckily Buckley park is right around the corner and there's probably a music festival of some sort happening! I enjoy Baskin Robbins flavors yet I would only pick it if someone else suggested it; if you know what I mean.
Durango has an expansive list of date night activities. Ice cream obviously being the best option to get to know your new love interest. And now you have an all access guide to choosing the best one for you and your date. Whichever store you choose will be an amazing choice. For our adventures, for our OCD friends, for our pumpkin spice lovers, There's a place for every type of couple here! This cuffing season you better get you and your new sweetheart to an ice cream store before it gets too cold!