Thanksgiving Brought to You by El Diablo News Staff!
Thanksgiving has many different traditions and treats, varying from family to family but often holding similar values. Durango High School newspaper staff recognizes the variance of cultures and budgets that different families have and we wanted to give your families an insight into ours. On Tuesday, November 15, 2022, the staff at El Diablo brought in our favorite Thanksgiving dishes and enjoyed a meal, sharing what we are thankful for and how we are looking forward to our breaks. All of the dishes that were brought in were phenomenal and we highly recommend that you try them this holiday season if you're wanting to vary from your normal foods or in a slump for what to make. We hope these reviews and recipes make your Thanksgiving scrumptious!
The different foods that were brought by the staff include: 
Turkey- Kalia Anthony
Mashed Potatoes and Gravy- Haylen McMillion
Stuffing/Dressing- Mena Ziegler
Corn Casserole- Giada Gierhart
Green Bean Casserole Haylen McMillion 
Stuffed Rolls- Evie Morris
Pumpkin Chocolate Chip Cookies- Minnie Jack
Pumpkin Spice Carrot Cake- Morgan Kraska
Oven Roasted Turkey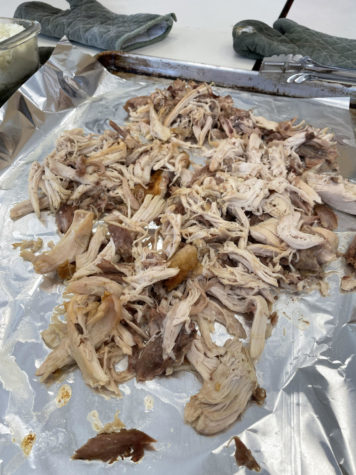 Recipe:
Mix the smoked paprika, garlic powder, onion powder, cayenne pepper, dried thyme, 1 tablespoon salt and 1 1/2 teaspoons black pepper in a bowl. Sprinkle some of the spice rub inside the cavity of the turkey. Separate the skin from the breast meat with your fingers, starting at the top of the breast and sliding to the right and left, then working down. Massage some of the rub onto the meat under the skin. Sprinkle the remaining rub on the turkey's skin. Place the turkey on a sheet tray and cover with plastic wrap. Refrigerate overnight or up to 24 hours so the flavors can marry.
Set a rack at the lowest position in the oven and preheat to 325 degrees F. Remove the turkey from the refrigerator to bring to room temperature. Tie the legs together and tuck the wing tips under. Place the turkey in a roasting pan. Drizzle the outside of the turkey with a few tablespoons of olive oil and sprinkle with salt and pepper. Roast the turkey about 3 hours, or until a thermometer inserted into the thickest part of the thigh registers 165 degrees F. Transfer the turkey to a platter, cover loosely with foil and let rest 30 minutes before carving.
Reviews 
Mena: ★★★★★
The turkey was delicious. Not dry, a little crispy with a good texture. 5/5 stars. Very flavorful, so yummy. Perfect thing to tie a Thanksgiving dinner together as it paired very well with the other dishes, complementing them without overpowering them. 
Haylen: ★★★★★
Turkey has never been one of my favorite parts of Thanksgiving. As a matter of fact, my family typically avoids it and has ham or in this year's case, roast beef. With that being said, the turkey that was presented to the newspaper staff on Tuesday was nothing short of phenomenal. It was juicy and flavorful and wonderfully tender. It practically fell apart in your mouth and was the perfect focal point of the meal. I loved the flavor that the meat had and how delectable it was. It paired wonderfully with everything on the plate from the stuffing/dressing to the mashed potatoes and gravy to the green bean casserole. I started off with very little, as I know that I don't typically like turkey and the overall flavor of the bird, but eventually went back for a second helping as I really enjoyed the quality of the dish and how it went so incredibly with everything else on my plate creating a wonderful palate. 
Corn Casserole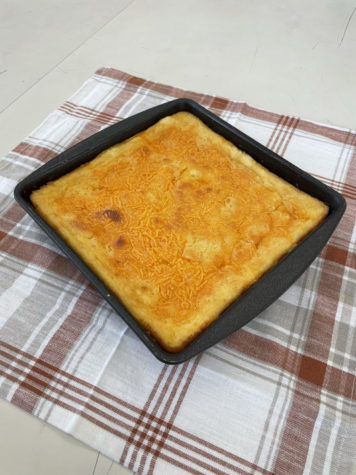 Recipe: 
1 can cream corn
1 can whole kernel corn-not drained 
2 eggs
1 cup sour cream 
½ stick of melted butter
1 box jiffy corn muffin mix 
Mix completely 
Bake 35-40 minutes @ 350 degrees 8×8 greased pan 
Reviews
Mena: ★★★★★
A surprising but lovely addition to the Thanksgiving dinner table. The sweetness of the corn and the creaminess of the rest of the dish was a very refreshing combo. Very unique, with an awesome flavor and texture. I highly recommend you make this. 
Haylen: ★★★★☆
I want to start off by saying that I am not a big fan of corn because it is on the sweeter side and I feel that foods, not desserts, should be more savory, salty and spicy. I like it in things, primarily chili and occasionally in taco casserole. So, overall, my hopes were not high for a dish called "corn casserole." However, my expectations were exceeded after trying this delicious dish. The casserole itself was wonderfully warmed with the perfectly proportioned levels of creamed corn, cornbread mix, and cheese. It was definitely on the sweeter side but was nice in comparison to the other savory foods that were presented at the feast that the El Diablo News displayed. It had a rather thick consistency with corn throughout the entirety of the food, giving it such an incredible texture that it almost melted in my mouth with strong bursts of flavor. I highly enjoyed this dish and will most likely be incorporating it into my Thanksgiving meal this year. 
Vegetarian Stuffing
Recipe: 
2 tablespoons of olive oil

1 onion, diced

4 carrots, diced

6 stalks of celery, diced

1 loaf of bread, cubed

2 ½ cups of water or veggie broth

these seasonings to taste
Salt

Garlic powder

Onion powder

Rosemary

Parsley

Herbes de provence (or other mix of herbs)

Poultry seasoning

Thyme
Toast cubed bread in the oven at 350 for 10 minutes. Combine butter, olive oil, onion, carrots, spices and celery on the stove, stirring occasionally. After about 5 minutes on the stove, add toasted bread and water/veggie broth, stirring again and adding more spices if needed. When combined and to your liking, bake for 15 minutes at 350 or until lightly crispy on top. 
Reviews 
Mrs. Kraska: ★★★★☆
While still offering the comfort of traditional Thanksgiving stuffing, I found this dish to be refreshingly herbaceous! Replacing meat with herbs gave this traditionally heavy dish a light and earthy twist. I give it 4 out of 5 stars!
Evie Morris: ★★★★☆
I thought all of the food during our celebration was delicious but what stood out to me was the stuffing made by Newspaper editor Mena Ziegler. It was rich and flavorful from the spices and herbs she used. I loved how the vegetable added that much-needed crunch that perfectly harmonized with the soft bread. It also went wonderfully with the other dishes and served as the base to pile the other foods on top. The sturdy base of the meal per-say. Fantastic job, Mena!
Pumpkin Carrot Cake with Cream Cheese Frosting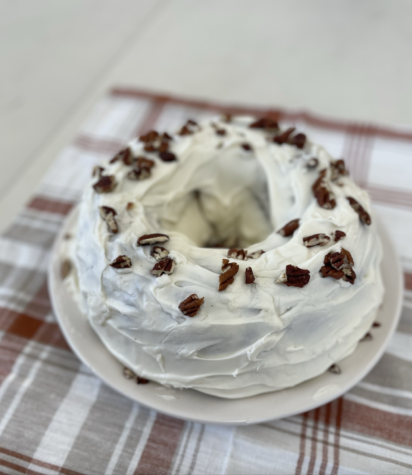 Recipe: 
Ingredients: 
Wet: 
1 cup shredded carrots

¾ cup whole milk

1 and ½ teaspoons lemon juice

1 and ¼ cups canned pumpkin (Libby's brand is recommended)

½ cup white sugar

1 and ½ cups light brown sugar

½ cup vegetable oil

3 large eggs

¾ tablespoon vanilla extract

1 can crushed pineapple (well drained)

1 cup flaked sweetened coconut 
Dry: 
2 cups all purpose flour

2 teaspoons baking soda

1 teaspoon fine sea salt

1 and ½ teaspoons ground cinnamon

¼ teaspoon ground nutmeg

⅛ teaspoon ground ginger

⅛ teaspoon ground cloves
Frosting: 
1 packages full-fat cream cheese (soften to room temperature)

¼ cup unsalted butter (soften to room temperature)

¾ teaspoons vanilla extract

2-3 cups of powdered sugar

½ cup of chopped pecans (optional)
Instructions: 
Cake: 
Preheat oven to 350 degrees

Spray 9×12 cake pan with oil and dust with flour

Peel and grate carrots

Whisk milk and lemon juice together. Set aside for 5 minutes. 

In a large mixing bowl, combine pumpkin, white sugar, brown sugar, oil, eggs, vanilla and milk/lemon mixture. Whisk until combined and smooth. Add in shredded carrots and crushed pineapple; whisk until smooth. 

Slowly add in flour, baking soda, salt, cinnamon, nutmeg, ginger, and cloves. Add in the coconut and mix until just combined. 

Bake for 35-45 minutes or until a toothpick inserted into the center comes out clean. Remove from the oven and allow to cool completely before frosting. 
Frosting: 
In a large mixer or large bowl with a handheld mixer, combine cream cheese and butter. Beat until smooth and creamy. 

Add in the vanilla extract and a generous pinch of salt. Beat until smooth. 

Add in the powdered sugar one cup at a time. Beat until smooth and creamy. 

Frost cooled cake and top with chopped pecans. 
Reviews
Evie: ★★★★☆
I want to highlight the cake made by DHS staff member and teacher Ms. Kraska. It was rich and flavorful, displaying the variety of fresh foods that went into it, such as pineapple, carrots, and coconuts. Plus, the frosting was super light and fluffy and perfectly harmonized with the cake itself.
Diana: ★★★★☆
This sweet carrot and pumpkin recipe is a perfect addition to becoming one of your favorite Thanksgiving desserts. The soft and sweet mix of the carrot and pumpkin with each bite you take leaves you feeling warm inside. When I first looked at the cake I knew it was going to be delicious. The second I took a bite of the cake, to be honest it was a little too soft. It still tasted good but it was still soft when eating it. Overall it's a delicious treat after a thanksgiving dinner and it's definitely worth a 4 out of 5. 
Pumpkin Chocolate Chip Cookies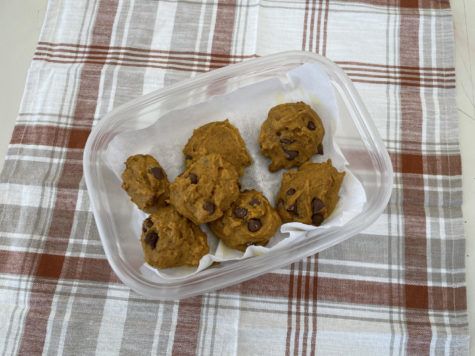 Recipe:
Ingredients- 
2 ¼ cup all-purpose flour 

1 tsp baking soda 

1 tsp pumpkin pie spice 

½ tsp kosher salt 

1 cup (2 sticks) unsalted butter 

¾ cup brown sugar 

¾ cup pumpkin puree 

1 egg 

2 tsp pure vanilla extract 

2 cups chocolate chips 
Directions-
Step 1

Preheat oven to 375° and line two large baking sheets with parchment paper.

Step 2

In a small bowl, whisk together flour, baking soda, pumpkin spice, and salt.

Step 3

In a large bowl using a hand mixer, cream together butter and sugars until light and fluffy. Beat in pumpkin, egg, and vanilla extract until combined, then add flour mixture. Beat on low until no raw flour appears, then fold in chocolate chips. Refrigerate the dough for 30 minutes.

Step 4

Scoop 1" balls onto prepared baking sheets, 2 inches apart, and bake until puffed up and golden around the edges, about 12 minutes.
Reviews
Giada: ★★★★★
The cookies had a very nice level of flavor, just sweet enough, not too much or too little. The chocolate chips added a delightful burst of flavor. The cookies weren't too dry and had a nice fluffiness to them. I love the festive flavor of pumpkin, it really helps set the mood for the holidays. I would rate this dish a 5 out of 5. 
Kalia: ★★★★★
The pumpkin cookies were so good, they were sweet, very flavorful in your mouth and when you bite into the cookie it's soft, I would rate it a 5/5 stars. It's a very unique way to tie the Thanksgiving dinner all together and other people should try this as a dessert for their Thanksgiving dinner.
Stuffed Rolls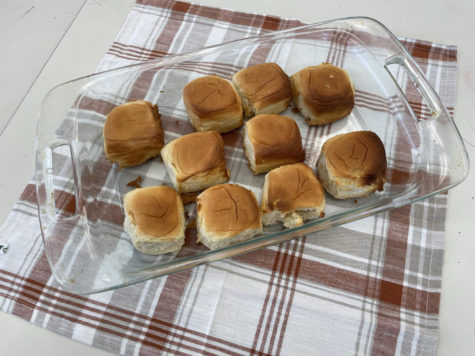 Recipe: Ingredients:
-Any brand of dinner rolls
-Mac'n cheese (premade)
– Stuffing (premade)
Utensils:
-Spoon 
-Tray
-Knife
Directions:
-Remove the rolls from the package and place them upside down on a tray. 
-Take your knife and cut a circle about ¾ of an inch down into the roll and ¼ away from the edge on all sides. 
-Pry the circle of bread out with your knife and place to the side for later. 
-Take a spoonful of stuffing and place it into the hole that was just created, pat down to make sure there is still room left until the top.
-Then, place a spoonful of mac n cheese on top of the stuffing making sure to leave ½ to ¼ inch of room from the top of the roll. 
-Take the circle of bread from earlier and carefully place back onto the roll on top of the mac n cheese and stuffing and press down lightly until the surface is completely even. 
-Repeat with the remaining rolls. 
-Once finished, flip all of the rolls back over and place them in the tray.
-Heat the oven to 350 degrees and place the rolls on the top shelf. 
-Bake until the edges of the rolls are just crispy or until desired. 
-Enjoy! 
Reviews 
Giada: ★★★★☆
This dish was a surprisingly good combination of flavors and textures. The crunchiness of the roll meshed well with the softness of its contents. I also liked that the cheesiness of the mac and cheese flavor wasn't too overwhelming, rather it complemented the roll. The stuffing also helped to maintain a nice middle ground between the mac and cheese and the crispness of the bread. I would rate this dish 4.5 out of 5 stars. 
Megan: ★★★★☆
The rolls are stuffed with mac and cheese but also a little stuffing. The bread was moist and even warmed up. It was good, sweet and soft. When you bite into it you taste a little salty surprise that is warm and creamy. Everything put together is really good, it has sweet and salty to it which makes it the perfect match. 
Mashed Potatoes and Gravy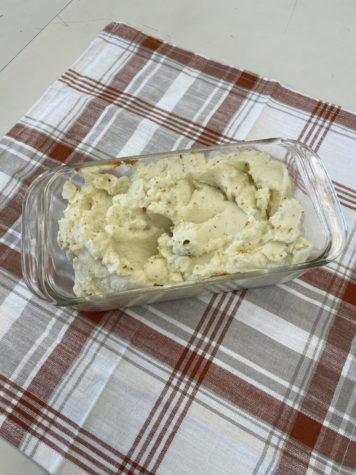 Recipe: 
Take one family size bag of Idahoan Instant Garlic Potatoes and place them in a bowl. 

Add boiling water while whisking until all clumps are dissolved and you are satisfied with the potato consistency. 

Take one package of Pioneer brand Gluten Free brown gravy and add to a bowl. 

Add 1 and 1/2 cups of boiling water and whisk until all the clumps dissolve and the gravy begins to thicken. 

Add ½ of a cup of cool water while whisking to thicken the gravy consistency.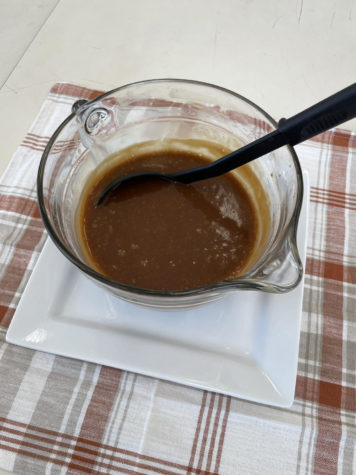 Reviews
Diana: ★★★★☆
My favorite side of any Thanksgiving dinner. These mashed potatoes were warm and soft once I took my first bite. The gravy gave these delicious mashed potatoes a little bit more extra flavor and savory goodness. My overall rating for this dish would be a 4 out of 5 stars.
Megan:  ★★★★☆
The mashed potatoes were a little burnt on the top but it added texture to it. They were creamy and really delicious, they had a little hint of garlic but also butter, and were perfectly warm and soft. The gravy was warm and light. It added just a tiny bit of saltiness to the mashed potatoes and it was just light enough to be the perfect pair. The gravy didn't mess with the mashed potatoes or their flavor either. 
Green Bean Casserole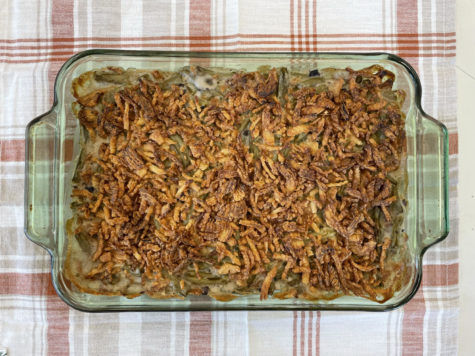 Recipe: 
Ingredients: 
Instructions: 
Preheat oven to 350°F. 

Mix cream of mushroom soup, milk and pepper in a baking dish. Slowly stir in half of the fried onions and the green beans. 

Bake 30-45 minutes until hot. 

Top with remaining onions and bake for 5-10 more minutes until crispy. 
Reviews
Mrs. Kraska: ★★★★☆
This classic Thanksgiving dish delivers layers of flavor. Each bite starts with the savory crunch of French's French Fried Onions and finishes with the comfort of creamed mushroom soup and green beans. With the perfect combination of crunchy, creamy, and savory, I found this dish to be especially soothing, as if my taste buds were being wrapped in the warmth of the holiday season! I give it 4.5 out of 5 Stars!