The New and Improved El Diablo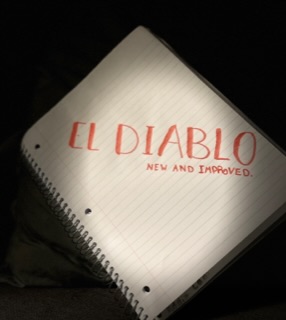 El Diablo is publishing its first printed edition newspaper since before COVID hit. "It's been a process that we have been trying to do all year. This is the third attempt at setting a deadline and actually meeting it," says Morgan Kraska, El Diablos advisor. "Because we were unable to produce any in time earlier this year we decided to make this one to highlight some of the best articles from this year. There were some articles that have been out there for some time and we wanted to give them more attention." 
Luke Elias, a freshman and one of three editors for the newspaper claimed, "It has so many impactful pieces that I think are really important to showcase." The articles were written under a number of categories, such as news, sports, highlights, features, and more. 
Larkyn Sarver, a sophomore journalist for El Diablo has an article of her own being included. "It's gonna be really cool to see my writing printed," she stated.
Having struggled during COVID, and fallen apart, finally El Diablo newspaper is picking up pace again. "I think people respond more to things they can touch. If we can get something out there that people can leaf through, and touch and hold, then it might remind people that we have a newspaper, and we can get more traffic online," Mrs. Kraska said. She then added, "I am hoping this newspaper will sort of symbolize that El Diablo is back and it might have dwindled for a little while, but it is picking up. Hopefully it will get back some of our audience."
Although it doesn't have nearly as many journalists as it once did, it has proved to be very impactful for those that have joined. Luke stated, "I really like [El Diablo] because you get a community out of it. it's not just a class, you really get to know people." Along with that, he said that any students looking to improve their writing skills should join. "If you like writing, [El Diablo] is really fun. If you want to improve your writing, it's really fun. Especially if you want to improve your writing. It's a very supportive community which makes it a safe space to do that." As an editor, it is Elias's job to help correct and improve people's articles and their writing. Editors have to balance between being firm and constructive with their commentary, while remaining kind and considerate with the authors.
Sarver also had something to say about El Diablo's impact on students. She claimed that "It gives people a place to put students' thoughts and opinions. It's usually the adults getting to make all these decisions about our education and our school, but with El Diablo, it's a student-led thing. It's about students, and having…student voice."
Having student voice is incredibly important for a school community. "I think for students, if they don't have a centralized place to organize their voice, it gets lost." Mrs. Kraska said. Some students don't feel comfortable talking to teachers and administrators about what they would really like to see happen in their school, and what they really care about. She believes El Diablo can become that central place. 
Elias stated, "I think having a student voice is important because students make up a very large part of the school community. We are pretty much the entire school community, but oftentimes you only hear from administrators and teachers, which is kind of hard."
As Mrs. Kraska stated, El Diablo could become the place for students to express their own voice. "Students would be able to say what is really on their minds, and they don't always get to do that," she claimed. Because El Diablo doesn't have the heavy influence of a teacher or administrator filtering and choosing topics for students, and because it is working toward becoming truly student run, then collectively it can be a place to express student opinions and voice. "I think having that centralized hub, and being able to communicate student thoughts and opinions through it, is a lot less scary than feeling like you have to stand up alone. When you are able to express those opinions through a collective voice, there is a lot more power in that." 
While the newspaper didn't branch into criticizing and asking for change in our school this year, Mrs. Kraska stated that "hopefully our staff will grow confident enough to express some of their own unfiltered opinions and hopes for our school, while still understanding where the boundaries are."
When asked where they hope to see El Diablo go in the future, they each had much to say. For Sarver, she claimed she wanted to see us get some of our online following back up. "It would be really cool if our website got a lot of traffic. If people went to read our articles on the website and left comments and had discourse on the website. It would make it a very strong outlet for student voice," she stated.
Elias is "hoping that we can create something that continues for years to come. I know there has been a lot of difficulty with that. El Diablo has been broken up and passed between teachers a lot over the past three years, which has been difficult, so I am hoping we can create a solid foundation this year. That we don't have to start from scratch every time." This is a sentiment Mrs. Kraska wholeheartedly agrees with.
"Having strong editor leadership would help greatly in creating consistency in this class. I think we have a really great foundation for that right now. Two of our editors are both freshmen and if they continue for the next four years, I think that would help greatly with creating a strong foundation for our newspaper."
She also stated that she would like for El Diablo to become a place where all things students, all student voice, comes through there. "If teachers and students want to announce something, that could be pushed through El Diablo. If someone has an idea they want to share, that comes through the newspaper. I want it to become a place where it is the hub for information about all things related to the school. It could reflect the culture and core of the school." Information is often scattered. You have to go to one place for information about one thing, while a whole other place for a different thing. Mrs. Kraska wants El Diablo to centralize it, making communication easier. As an afterthought, she added, "I hope whoever takes over this job next year has similar goals and ambitions as mine."
For those considering joining, each had a few things to say. Sarver stated, "You get to see your written work become a final product in a way you don't get to see that a lot. You just kind of write an essay and then it's into the void, but if you write for El Diablo you will hopefully get to see it on the website and maybe even in the printed edition. It is a very unique and exciting experience."
Elias felt that he had "learned a lot, especially being a freshman, I learned a lot about our school, and different aspects of it. That was really meaningful for me, especially being new to the school, to have that introduction to everything." Being an editor created a unique experience for him as well. "Since there are three editors, we get to rotate so I still get to have the editing experience while getting the writing experience. I am still able to work closely with people in the class, despite my adjusted role."
For Mrs. Kraska, there were a number of important things that might draw in potential journalists. "They get to have a lot of control over what they are doing. I'm not going to fully dictate that. I might encourage you to take a certain route or perspective that has more clarity, but mostly it is up to the writer what they are writing about. You get to choose a topic you feel passionate about, and you get to explore that." According to her, students also learn how to weed through all the misinformation we are presented with in our lives, and find the truth, which is an essential skill, especially when writing about those topics. But most of all, joining El Diablo means "being in a position where you get to express what is important to you. Students can find something in their community that they don't agree with or think is right, and they can use their voice to act on it. That is real power."
The printed edition coming out at the end of the year is a huge step for the restoration of El Diablo. By getting a physical copy out there, we are telling the world we are back and hopefully here to stay. As Mrs. Kraska stated, "We really need to show people that our newspaper still has value, that it holds importance, and it just needs to keep going."