2023 Prom Recap
During the end of the fall and spring semesters, Durango High School and other high schools throughout other states and countries offer a homecoming and a prom. Homecoming is a small party set in a chosen location like the school or an auditorium in another place and all grade levels are allowed to be at the event. Prom is similar but only the upperclassmen like juniors and seniors are allowed, with a few underclassmen going as a guest. 
But at Durango High School, prom is pretty special for those who go. The prom is set in the ballroom at Fort Lewis College from 8:00 pm to 11:30 pm. During prom in the ballroom, there is also a resting room full with chairs and tables for those who are too tired or ones who don't want to dance. There is also a water room, pretty much a place where you can get and drink water when you are dehydrated after all the dancing. At prom, the school hires a DJ to play different types of music. Isabella Lucero who is a sophomore at Durango High School and went as a guest to prom includes, "I thought prom was pretty fun but i think that the people i went with were definitely the reason i had a good time". 
Midway through prom there is a short intermission to announce the Prom King and Queen winners. They select the winner two weeks before the prom happens, by student council sending out a google form regarding the couples that should run or are running for prom king and queen. After that they send out another email with the top few nominees and then you get to choose your top three choices. At prom, you are also able to make your choice by putting your vote into a box with the nominees name. This year the prom king and queen winners were Renic Vincent and Ava McClellan. After the announcement the DJ played a bunch of good songs that fit the celebration for the winners. Ava McClellan the prom queen winner includes, "I think prom went well this year especially considering there weren't any issues and everyone seemed to have fun and also winning was pretty cool too".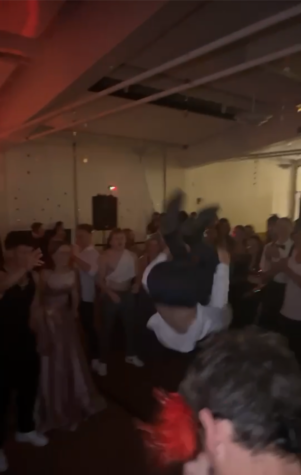 At 11:30pm, the prom dance concluded and finished. But Durango High School also hosts one more event which is called "After Prom". It takes place at the Durango Community Recreation Center that starts at around 12:00 am and finishes at 3:00am. Haylen McMillion, a senior at Durango High School, adds, "After Prom is a safe place for kids to go after the dance. There's tons of activities, food and prizes. I love After Prom, personally, just because they're got some cool things to give away and raffles and I really like the bingo room." During this event, just like how McMillion states, there are raffles. After placing your ticket in the raffle you want to enter, to be able to fully compete and win the raffle you have to stay at After Prom until they announce the winners which is during the end of the event. Although some students did not enjoy staying up until 3am to determine whether they won or not. Others rather enjoyed it whether they won or not because they were able to have a great time just like how Lucero stated. 
Overall, prom is a great event that is held by the school so that students and guests can have a fun time with their friends. Charlotte Newbold who's also a senior at Durango High School includes, "prom was great because of how they placed the stage since it made it look like there were a lot of people. Although the DJ could have played more party music from the early 2010's, prom in general was fun". 2023 went amazing with the great amount of partying and plenty of people winning prizes during the after prom.