April Runoff Brings May Flowers
After a historical winter and a wet monsoon, annual spring snow melt is estimated to be significantly higher than average. This can cause flooding if the conditions are wrong, but it can also be a sign of lush summer months with low fire hazards.
There was absolutely nothing ordinary about last winter's weather. The unusually dense snowfall forced the school schedule to be rearranged due to the excess snow days that had to be called and Purgatory's slopes were open with fairly good conditions into May.
The Durango Herald said, "The Colorado River Basin Forecast Center stationed in Salt Lake City forecasts 153% of average runoff for the Animas River Basin through July, said Paul Miller, service coordination hydrologist and spokesman." This hasn't happened in many years, since 2019 to be exact.
These types of weather conditions can, of course, be a flooding hazard. Around Durango gutters, culverts, and ditches have been aggressively spewing water. Depending on where you live, this issue could be more or less imminent. Students who live north of Durango might find themselves living in a 100 or 50-year floodplain. That means that those areas experience a 1-2% flood risk annually, or are expected to flood every 100 or 50 years. It's important to keep in mind that "The recurrence interval is based on the probability that the given event will be equaled or exceeded in any given year," according to the U.S. Geological Survey.
Myla Glaser, a sophomore who lives in Hermosa below Trimble Hot Springs, reported that "We've had streams, small, little waterfalls all around our property. You can hear running water from our house." Comparatively, the area around her house doesn't usually get going until June.
It's not only the quantity of snow melt that matters, it's also the timing of it. There is "a significant correlation between early spring snow melt and total annual area burned, providing further evidence that snow melt may be a driving factor for wild land fires," reported an article by "Fire Ecology". This year, the advent of spring runoff is as much as two weeks later than it was in 2019, which is a promising omen for this summer's fire risk.
Historically, low runoff has been an ominous sign, such as in the summer of 2018 when the 416 fire burned in our backyards for nearly two months before it was contained. Glaser was one of the students who was evacuated or pre-evacuated during this time. Interestingly, the fire resulted in floods and mudslides due to destroyed vegetation. When the dead roots could no longer hold down the ash, soil, and rainwater, they poured indifferently down the mountain. Most of the damage from 416 came not from the fire itself, but from the following mudslides.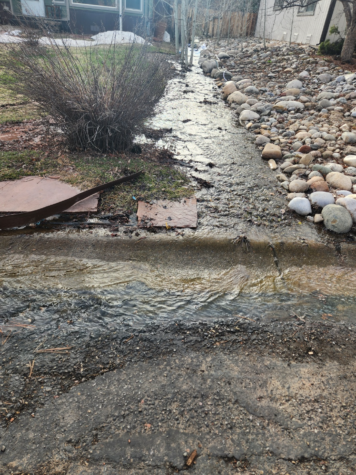 The increased runoff this year also has a profound effect on the river. On Friday May 5, 2023, a streamflow of 3,630 cubic feet per second was recorded in Durango. By comparison, in 2019 the peak cubic square feet in May was 4,070 CFS on the 17th and its season peak was 7,230 CFS on June 9th. Therefore, it stands to reason that we could expect even more river flow in the coming weeks.
Students have noticed the impact that this year's river flow has on their river recreation. Heidi Clay reported that "I've done paddle boarding on the river so I'd say that the high flow this year probably changes the usual super mellow flow of the Oxbows."
Mirelle Douglas agreed with her, "I paddle board on the river from the Oxbows. It's really fun because the river is mellow with some strong currents."
I asked Elli March to explain in more detail, "In some spots like the Oxbow, it makes it easier. But in places like under the bridge my City Market it makes it harder to paddle because of the current. It makes paddle boarding more difficult to steer or paddle up stream. But I would say the stronger the current the more fun rafting is!"
Clearly, whoever thought that "April showers bring May flowers", wasn't really thinking of January blizzards at the time, but either way, the outlook for this summer looks promising. If you see the fervent rush of water around town, keep in mind that though it could be a cause of floods and other miscellaneous chaos, the moisture will act as a sentinel, warding away unusually devastating wildfires, and as a salutation, signaling the arrival of a fun and fertile summer.