Just One More Chapter!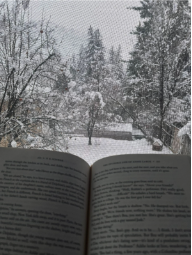 There are lots of clubs and groups that you can be a part of at Durango High School. From the Astronomy Club to a Dungeons and Dragons club, we have something to suit your interests. The newest one is a book club created by Harper Burgess called the One More Chapter Book Club. 
The members give suggestions on what books they are interested in and then vote on which to read. 
The President of the club, Harper Burgess, created this club because she "likes to read" and the book club will be a place to "read and hang out." Though she has never been in a book club, she is excited to be in and run one. Burgess says that the club will probably be around next year and she and her co-president, Rye Standfier, will be the ones running it. When asked what genre of books they focus on she explains, "we don't really know yet… It is really democratic and people get to pick what goes on." The positions in the club are not completely figured out since they had their first meeting last week, but there will be positions that people can run for.
Club member, Kara O'donnel, explains that she joined the club because she "likes to read and it is a lot of fun." For the club she would like to read the dystopian book, Fahrenheit 451.  When asked why he joined the club, Luke Elias responds with, "because I love reading and I thought it would be another good way to read more… especially because during school I don't get to read as much as I'd like to." Maddie Dubois is also a part of the club and she explains that, "I work at Marias book store during the summer and I thought it would be a great way to have time to read during school and I like discussing books with other people."  Her Twin sister, Alix Dubois also enjoys reading so she thought the book club would be a good way to do that and enjoy it with others.
Reading and discussing books in a group setting might be a fun thing for you to do and take part in. They take all peoples schedules and opinions into consideration when deciding the schedule on reading the books. So if you're a reader and are interested in the club, stop by Ms. Phelps room, 2024, in the English Hall on Fridays during lunch. Anyone is welcome!