Spotlight: Mrs. Johnson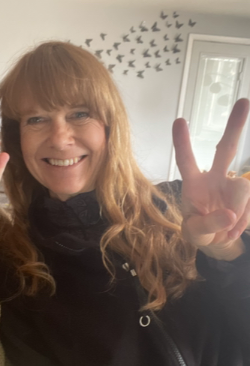 Lori Johnson works as a math teacher here at DHS, and has been for 23 years. This year, students are able to take Pre-Calculus and Math 2 with her. She is a wonderful, well loved teacher according to all of her students. Known for her kindness and great teaching skills, she is one of the best teachers you can have. 
Before working at Durango High School, She taught at Puter High School in Fort Collins, and then at Overland High School in Denver over the course of five years. This is her 28th year teaching, and the next two years will be her last before retirement. 
According to Mrs. Johnson, she knew very early on she wanted to become a teacher. "I had a lot of really great math teachers in high school, and they encouraged me to go into teaching," she stated. "Some of my gymnastics coaches were also math teachers." Because of them, not only did she want to teach, but become a coach as well, something she was able to accomplish after college.
Gymnastics was actually a big help in her journey towards getting her teaching degree. As a gymnast in college, she was given a scholarship that paid her tuition. "It was back when Title 9 was first happening,so they were trying to balance out mens and womens sports. I went to Nationals," she mentioned. Having an affinity for the sport, she stated, "I think gymnastics gives you balance and other skills you can carry forward."
With her teaching degree in hand, she transitioned toward becoming an educator. "At the time, back in the '70s, there weren't a lot of females who were teachers, and I was the only female teacher in our department that year. They were trying to really encourage women to get into the STEM related areas." Having worked at DHS since the year 2000, she has had a long time to hone in her teaching methods, and has learned what works best for her students.
"I am very business-like, I map out what it is I need to teach." She uses what is called the 'Backward Design,' where students are first tested, and then the teacher decides how they will get their students to where they need to be from there. "I don't go off the beaten track. I just stick to the concepts that need to be taught and try not to ramble about subjects that don't have to do with the area I am teaching." When it comes to actually teaching the students, Mrs. Johnson stated, "I try to break things down into very minute steps. If a student missed something last year, I try to incorporate but I'm still moving forward for the students who've remembered learning those things." Having taken one of her classes, I know her methods are very effective and work well for teaching students the subject efficiently.
"One of the main reasons I love teaching is the students. I love the students. They still have their whole life ahead of them. They are looking at colleges and they are just ready to change the world. I love to see their optimism and their open mindedness. They are all so courageous looking into the future like they are going to change the world," Mrs. Johnson stated. She actually has a degree in elementary education, but chose to teach high schoolers instead. "I just connect with high school students a little more, for a lot of the reasons I just mentioned. You're on the verge of being on your own and being independent. That's an incredible thing."
Not only does she love teaching high school students, she especially loves teaching in a small town like Durango. "You'll notice that I have newspaper articles all around the room. You don't get to see the kids in the newspaper in a big town like Denver." Mrs. Johnson is known for covering her classroom in news clippings. All of them feature a DHS student being praised for one reason or another, all special and unique. "It's really great to know the students through all their extracurricular activities. It's nice to see them in the paper and see all the things they are busy doing besides school." She uses them as a way to spread joy and pride to her students. She said herself that "after posting them on the wall, I love that kids can see their picture and be proud of themselves. It's a nice way to share things with everyone." This is just another example of her incredible ability to share kindness and show support for her students. 
Elsie Cady, a former student of Mrs. Johnson stated,  "I remember walking into Mrs. Johnson's class, and seeing all the new articles she had put up. Reading all those news clippings with 'Demon' and 'Durango' in the title felt very inspiring. I really loved how proud she was of her students. It felt good."
When asked about her plans after retirement, Mrs. Johnson shared a little about her family. "I'll be 65 years old, which is when most people retire. My plan is to move back to Fort Collins where my family lives, and do some of the things I enjoy like hiking, biking and spending more time with family." She has four kids, each of them unique and making her very proud. "I'm really proud of them and their accomplishments. They are all so different from each other but they are all so successful in different ways." According to her, because she raised kids, she feels as though she is better able to understand high schoolers because of it. 
Litzy Lopez, a senior and current student of Mrs. Johnson had much to say about her experiences with her this year. "I've had a number of great math teachers throughout the years, but none have come close to Mrs. Johnson. Beside her amazing teaching, she is one of the kindest, most generous people I have had the pleasure of meeting, and I wish I had been able to take more classes with her before graduating. She is truly an incredible teacher and human being."