Open For Business
Haylen McMillion, Head/Sports Editor, Social Media Coordinator, Fundraising and Advertising Manager
Oct 4, 2022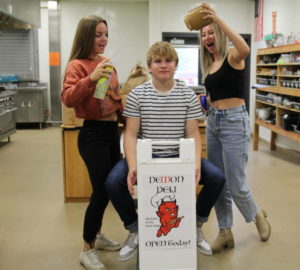 The Demon Deli is open for business and ready for you to drop by and purchase some of their delicious treats that are prepared in house by advanced culinary students, led by culinary director and teacher, Joe Burns. 
In the upper west wing of Durango High School, students and staff will find the student run Demon Deli. Taken on last year by Burns and his students, the project has proven to be more difficult than expected but one of the most beneficial things that the culinary class has tackled. In an interview, Burns said that students are learning more than just how to prepare and cook nutritional meals, which is a necessary life skill in itself; they're learning how a real work environment works as "they're in charge of keeping the freezer stocked, pre-making things and freezing things, setting up, cleaning, inventory, and going up and running the Deli."
Prostart 2 students Armond "Mondo" Autry and Kiana Fullerton say they're learning business and time management, how to calculate earned profits and create budgets, basic customer service and social skills and, as expected, fundamental culinary techniques. Fullerton says "one thing that Burns has been teaching since I was a freshman is going to college and being able to have nutritious meals on a budget, which is great. I love this class and it is completely worth the join."
Currently the Demon Deli is only open for breakfast but they soon hope to be open for lunch. While they wish to serve more food as time progresses, they currently have eggs in a bell pepper, vegetarian breakfast burritos, scones, sparkling water and coffee. They hope to soon sell multiple types of burritos, yogurt parfaits, oatmeal and other foods that fall into school approved nutritional guidelines. When they open for lunch they hope to sell sandwiches, salads, wraps, chips and dip, and slushies.
 When asked if the Demon Deli is able to accommodate the dietary restrictions of all students, those who are celiac, lactose, and vegetarian/vegan, Burns stated that "[they] are not currently able to cater to all needs but that's not to say that as the Deli remains open, funds will not be made that can contribute towards things like oat milk creamer for those that are lactose and more gluten free options. We currently have foods that meet those options like the egg in a pepper for gluten free and we have the vegetarian burrito but we can make things more accommodating as time goes on." Chris McGrath and Reese Glover, Prostart 2 students, said that it's going to be difficult because there are limits, "like with gluten free foods, you'll need larger amounts of sodium and carbohydrates to make the food taste good but that may not meet the restrictions set by the school board" and "vegetarian foods are somewhat possible but to cater to vegan needs is hard because you have to meet certain protein requirements and that's a little difficult money wise."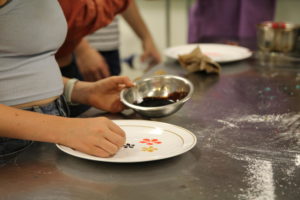 All funds made from the Deli go directly back to the culinary program. Food is the largest thing that the money is spent on but equipment is another major component. Burns explained that often times he ends up going to get ingredients and supplies from City Market and traditionally uses money that the program has earned but if he needs something for a lesson and didn't have the time to request the allocation, he will often spend from his own pocket, further demonstrating his dedication and love for his class. "I love food and cooking and I love cooking for other people. I love seeing people's reactions when they eat my cooking and seeing how food makes people feel. Sharing that joy and that feeling with students is an incredible experience and it's the main reason I teach and the reason I teach the way I do." 
Burns loves his job as a culinary teacher and feels that having the Demon Deli completely run by students is the best thing for the program but that doesn't mean that it's without its complications. The deli is open every morning from 7:45 till 8:15 meaning students who run the deli would have to be at school a full thirty to forty-five minutes before school even starts. Staffing is the largest issue they've come by so far seeing as they may not have a ride or the ability to get to school that early. Burns himself arrives at the school around 7am so that he can put the prepared food in the oven to cook so that when the students get there they can wrap it up for sanitation purposes and carry it upstairs to the deli. The only other major compilation that they have run into is customers. "We want to see everyone there. All grades, all staff, anyone with dietary restrictions. We want to create an atmosphere for students to come and hang out in the mornings and eat and get a cup of coffee before school," Burns details, "the location is just a tricky spot. We're up in the west wing in a place that only seniors really know about because it was run by the cafeteria staff their freshman year."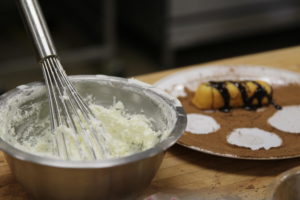 The Demon Deli is one of the most creative things in our school. We take care of each other, we take pride in each other, it's the DemDemon Way and that's exactly what teacher Joe Burns and Prostart 2 students are hoping to accomplish with the Demon Deli. They would love for students and staff to drop by the upper west wing before school starts and hang out and buy some tasty treats and leave some suggestions. Students and staff are also encouraged to stop by the culinary room and share their ideas with Burns and his students as they would love to know exactly what students want in their school.