The New Midnight Madness
Seemingly timeless traditions all have to start somewhere, even from virtually nothing. Red and White night was the start of the 2014-2015 basketball season for both boys and girls; Durango High Schools version of Midnight Madness. A mix of games, cheers and scrimmages, it is the start of a hopefully ongoing tradition welcoming the new sport season.
Despite only parents and friends of the athletes in attendance, the news of a $100 cash prize is spreading through the school. New crowd games, whether they are half court shots, or relay races, should enhance school participation if money is the prize awarded.
"Did someone really win one hundred dollars? Thats crazy," said Jr. Mia Irwin.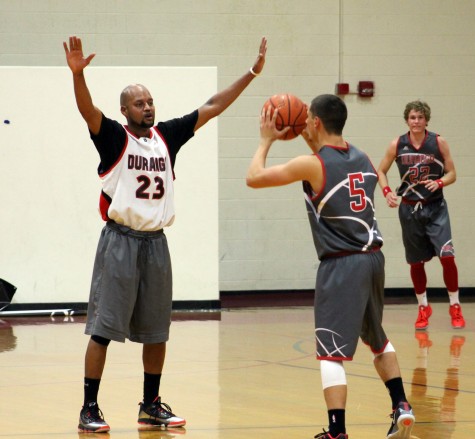 Despite limited attendance, the players got to mix up a day of their typical practice. The importance of the event wasn't solely to create a tradition, but for students to enjoy themselves.
"As a player, it was fun o play, especially against the teachers! I could even see it developing into a more fun tradition, but it needs to be a little more promoted," said Jr. Danica Dudley.
Each event put on can be a great tradition to look forward to each year, even as highly anticipated as the Cortez games. It all has to start somewhere.