Black Friday Madness
The time is 12:01 AM on November 28th; Black Friday has just begun.  Shoppers of all different race, ethnicity, and religion come together in the pursuit of a good deal on tech, fashion, video games, toys, cloths, TVs, and building materials.
Not all shoppers rose early on Friday to brave the masses; many went shopping Thanksgiving night on "Gray Thursday".  Gray Thursday is somewhat controversial; many think that Thanksgiving is a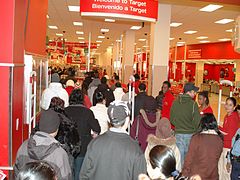 time for family and thankfulness, not shopping and elbow throwing.
"Its kind of against the season of giving; people are just hoarding around to see a item that will be unveiled.  I mean, why would anyone want to elbow grandma to geta new video player," said marketing and business class teacher, Dave Dillman. Dillman teaches teaches marketing and business classes at Durango High School.
Fewer grandmas got elbowed this year than in years past, this can be partially credited to the opening of stores earlier on Gray Thursday.
Dillman went on to state that he enjoyed getting a "good deal" but that impulse and spur-of-the-moment was something that should be steered away from.
This is wisdom that many Americans need to listen to.  The average American in the U.S. spends about 423 USD every Black Friday largely because of ads that persuades the masses that they are getting a "deal" and "saving money" when they are purchasing the latest tech or neat toy, but the buyer is "saving" nothing if they are buying something they do not need.