Cycling Revolution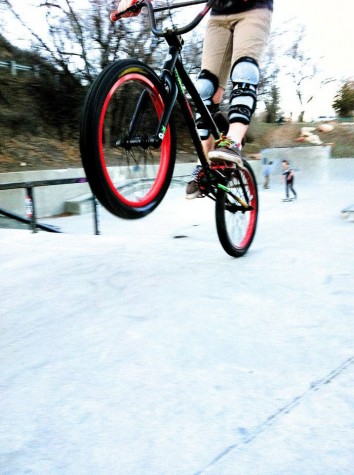 There is a new revolution sweeping through the World, and it is not from District 13 or anything like that. This is the time of the bike.
Mountain, Road, and even Cyclocross have swept the nation and left a wake of confusion behind them. Mountain biking especially exploded in USA, as it offers a different way of transportation, where nothing is going to stop you.
"It is growing rapidly, but it doesn't get very much attention. Also because it is expanding, it gives the sport and the people who do it more attention," said So. Katja Freeburn.
Guess who is leading the charge? Not a big city, but the city that most of you will read this from, Durango Colorado and the high flying Durango DEVO.
Surprising for most people. I mean come on, who would have thought that a rural Colorado town would lead the charge of the future.
"I think Durango remains the leader in expanding mountain biking because of the real love and passion the people of Durango have for the sport. They simply want to give other people the chance to experience the amazing moments on mountain bikes that we all have had," said Alumni Kaylee Blevins.
Even our high school has recently impacted the scene, by winning the Colorado State Championships for mountain biking.
Even more surprising, is the amount of famous riders, National Champions, and Worlds' Riders that have emerged from Durango.
Ned Overend, Todd Wells, Troy Wells, Howard Grotts, Kaylee Blevins, Christopher Blevins, Sarah Tescher, Stephan Davoust; the list goes on. All of these people are just like you and me, normal (mortal) people in society, and one still attends DHS.
Amazing! All of these people have advanced through Durango and on to the World Stage.
I mean football you're great and everything, but I haven't seen one Pro player come out of Durango. Also, do you have a World Competition, nope.
All forms of biking do, and they are not just every four years, as Durango keeps sending Athletes to represent AMERICA on the world stage, year after year.
Not only are people from Durango going, but they are flourishing at these races. Howard Grotts this past summer, placed third in the U23 category at worlds.
"I think Durango riders perform well at high level competition because we come from such conducive place for hard training. Aside from having such good terrain to ride, it is simply so much fun and that only encourage more riding," said Blevins.
So think what you will, but remember that a revolution is happening and it is not stopping for anyone or anything.