CMAS a Pain in the @$*
The seniors have been taking the Colorado Measures Academic Success (CMAS) tests for the last two weeks.  This a series of tests that seniors take and how they score, goes on their transcript.
Durango High School took three days out of two consecutive weeks to complete the tests. They split the senior class into two groups according to advisories and made one group take it the first week. The second group would go to class while the first group was taking the test.  The following week would be the opposite with group two testing and group one testing. On your week to take the test you reported to a computer lab at the beginning of second period and would stay until the end of third period. Having a 70-minute time slot to complete the tests. You would return to the lab again for fifth and sixth period.
For the week that your group is testing you only attend your first, fourth and seventh periods. This made it hard for teachers to plan, only having half of their class for each week. As seniors we have taken tests for as long as we can remember. Most of us, as students are not pleased with testing. I did not enjoy the CMAS tests. Part of that is that I am new to the curriculum, not knowing what the other seniors have learned over the course of their four years. I did not enjoy missing classes because the next week, I found myself behind.
"I thought it was simple and quick. The timing of it could have been better. I would have rather not missed a week of school," said Sr. Jessica Sigletto who has been at Durango High all of her four years.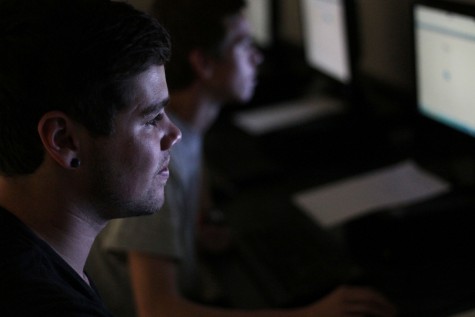 The tests focused on social studies and science. We were the first group of seniors to ever take the CMAS. Some like Sigletto thought it was simple and others like myself found some of the questions stumbling. The test was a standardized test format; seniors have been through these countless times. The fact that the test was on a computer, meaning that you were staring at a computer screen, which personally made my eyes hurt.
"Too much standardized testing. Senior year is stressful enough," said Stumpto. Kate Stumpto is also a four year senior.
I resonate with her words. On the contrary I do believe that this test measures how much the students of the Colorado School system have learned over their four years in highschool.