Girls Basketball Shoots for Success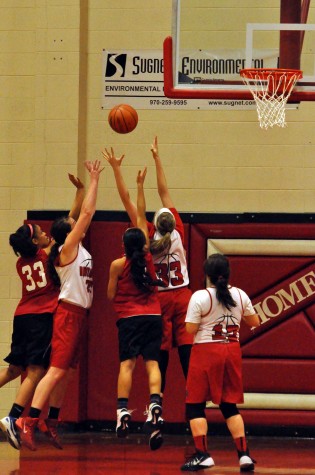 What happens when Demons, Bobcats, and Wolverines are all in the same building, pitted against each other in a battle for buckets?  On Friday Nov. 21, the girl's varsity teams of Durango, Ignacio, and Bayfield played a two and a half hour scrimmage to try and solve the mystery.  The jury is still out.
A good number of students and staff came to support the varsity team.  Some of them even stayed for the full duration of the event; the scrimmage lasting a whole two-and-a-half hours.
"I think it went well, for our first competition.  We've got a lot of things to work on, but that is what tonight was about," said Varsity Coach Tim Fitzpatrick.
The event began at 6 p.m. with the Durango Demons facing the Ignacio Bobcats.  As the night progressed, the Bayfield Wolverines joined the competition.  Each team played the other two twice, making a total of six 20 minute games.
I'm very pleased that the girls worked extremely hard and right now that is the most important thing," said Fitzpatrick.