The "Midnights" Era: Taylor Swift is a Mastermind
Taylor Swift's newest album was released on October, 21st, 2022 at midnight EST (Eastern Time). It is titled, "Midnights" and tells the tale of "13 sleepless nights scattered throughout…[Taylor Swift's] life" as dictated through an Instagram post. 
She announced the surprise pop album while accepting her Video of the Year Moon Person award at MTV Video Music Awards, and soon after she released information about the collection of songs including photos of the album art and the number of tracks (originally 13). She announced the track list in a TikTok series called Midnights Mayhem With Me by using a bingo ball cage and red phone to randomly select a track number to reveal. This latest release is her 10th studio album, not including her 2 re-recorded albums ("Fearless" and "Red").
On October 17th, 2022 Swift released a TikTok with a calendar showing important upcoming dates at that time including the 21st (the day the album was released). The interesting part is that on the calendar 4 hours after the "Midnights" release, at 3am EST it said, "Special very chaotic surprise". Fans speculated she was going to release a double album and while she didn't do that, she did something similar, releasing 7 extra songs along with the other 13 tracks in another version of the album dubbed, "Midnights (3am Edition)".
The original album tracks for "Midnights" are titled:
Lavender Haze

Maroon

Anti-Hero

Snow On The Beach (feat. Lana Del Ray)

You're On Your Own, Kid

Midnight Rain

Question…?

Vigilante Sh*t

Bejeweled

Labyrinth

Karma

Sweet Nothing

Mastermind
The extra seven tracks in "Midnights (3am version)" are called:
The Great War

Bigger Than The Whole Sky

Paris

High Infidelity

Glitch

Would've, Could've, Should've

Dear Reader
There are many theories about all the songs Taylor Swift has written and released throughout her career due to her artistic style and poetic lyrics. Here are some that people have theorized and some things Swift has confirmed about the songs on "Midnights". 
Fans believe "Karma", the eleventh song on "Midnights," is about Swift's feud with Kanye West (now named "Ye"). This is because track 11 on "Speak Now", "Innocent" is theorized to be about Swift forgiving West for the 2009 incident (at the MTV VMAs, Ye West interrupted Taylor Swift receiving an award for Best Video by a Female Artist for "You Belong With Me" claiming that Beyonce had "one of the best videos of all time"). Then in 2016, West released a song called "Famous" in which he claims he made Taylor Swift famous. He said that he had permission from Swift to say this but a spokesperson for Taylor Swift said that she hadn't.
Then Kim Kardashian, Ye's wife at the time posted videos on Snapchat of West and Swift on the phone where West "asks" permission to use expletives and suggestive things in relation to her. But it is unclear if he actually did, because the videos are cut and stitched together. Social media created a lot of backlash against Swift because people believed she was being strategic with how she was protecting herself from repercussions. 
Kim Kardashian on the show, Keeping Up With the Kardashians, said, "She wanted to play the victim…". The conversation about the feud by fans and ex-fans of both parties was being analyzed with gender roles and racism in mind, with Vice saying that, "Taylor, the innocent white girl, and Kanye, the bullying black demon." Because the song "Innocent" and the song "Karma" are both track eleven on different albums people think that Swift is hinting back at "Innocence" and the feud showing that Ye West is going to eventually get karma (the title of the eleventh song on "Midnights"). Also Swift released the album "Midnights" on Kim Kardashian's birthday, further adding to theories. 
Taylor Swift said she first heard the phrase "Lavender Haze" on the TV series Mad Men. She stated "I looked it up because I thought it sounded cool…and it turns out that it was a common phrase that was used in the 50's where they would just describe being in love…[or an] all-encompassing love glow."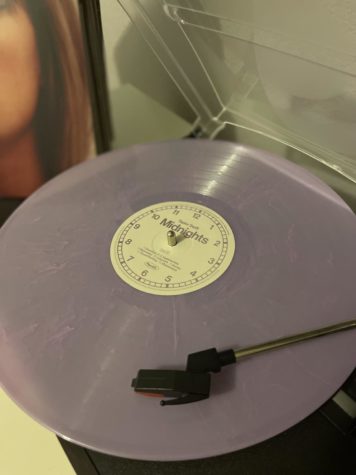 Our Thoughts on the Album: "Midnights"
Mena's Thoughts: My favorite songs are, "Lavender Haze", "Vigilante Sh*t," "Sweet Nothing," "Karma," "Bejeweled," "Mastermind," and "Question…?" but I seriously love all of the songs. I liked the variety within the album, it was lyrical and poetic like "folklore" and upbeat and heartbreaking like "Lover" and vengeful and rebellious like "Reputation" (some of Swift's other albums). I was so excited for it to come out and I am not disappointed at all, I have been listening to it on shuffle consistently since it came out. 
Minnie's Thoughts: My favorite songs are, "Maroon," "Snow On The Beach," "Labyrinth," and "Lavender Haze." I really love the album cover and how well it matches with the vibe of the music. "Snow On The Beach" had no Lana Del Ray, you couldn't hear her at all, maybe in the background a little, but still I want a "Lana moment." It's a good song but both icons should have been heard and had parts where you could hear them both. Other than that I thought the album was really good, I rate it a ten out of ten. 
Kalia's Thoughts: "Snow On The Beach," "You're On Your Own Kid," and "Paris," have been my top songs. I love how these songs relate to people's personal lives, including mine. I agree with Minnie, the songs fit really well with the album cover. I also agree with Mena, it feels like a mix between "Reputation," "folklore," and "Lover." I'm in love with the album and I like how people on TikTok have been hyping it up, I think that's pretty cool.
Even if you are not a Taylor Swift fan, this album is worth listening to, as it has received many positive reviews including being the most streamed album within a single day in Spotify history. Also, we recommend watching the two accompanying music videos for songs, "Anti-Hero" (which "shows" Swift's funeral in a dramatic depiction of the song) and "Bejeweled" (which is Cinderella themed and includes some dialogue in the beginning).