Troupe 1096 Starts Their First Show Of The Season, Anastasia!
Including an interview with the amazing Katelyn Bowie!
The 2022-2023 Troupe 1096 season has begun! Anastasia is currently in the rehearsal phase and will open late October. Anastasia follows the story of a Russian princess, Anastasia, whose family has been killed by communist revolutionaries. Rumors begin to circulate that the princess has survived, and two gentlemen are after the reward offered for her safe return to her grandmother. Full of wonder, love, loss, and a beautiful musical score, it isn't a performance you'll want to miss. 
The show will run 10 performances, with 2 being performed by the understudies. Below are all dates for performances (may be subject to change) 
Show Dates:
Saturday, Oct 29th – 7pm
Sunday, Oct 30th – 2pm
Thursday, Nov 3rd – 7pm
Friday, Nov 4th – 7pm
Saturday, Nov 5th – 2pm
Saturday, Nov 5th – 7 pm – UNDERSTUDY 
Thursday, Nov 10th – 7pm
Friday, Nov 11th – 7pm
Saturday, Nov 12th – 2pm – UNDERSTUDY
Saturday, Nov 12th – 7pm
Curious who's involved? Below is the main cast list along with tech heads:
Main cast:
Anastasia- Katelyn Bowie                 Dimitry- Ben Hinkley                 Vlad- Aiden Hurley
Gleb- Jacob Fuller                  Lilly- Cruz Colvig        Dowager Empress- Karissa Rocha-Atamas
Count Ipolotov- Noah Oury             Gorlinsky- Nathan Greer         Young Anya- Sadie Hansen
Understudy Cast:
Anastasia- Maggie Williams            Dmitry- Noah Oury            Vlad- William Reynolds
Gleb- Declan McAlvaney             Lilly- Ava Allen               Dowager Empress- Ginger Ashurst
Count Ipolitov- Luca Sandoval           Gorlinsky- Nathan Greer       Young Anya- Sadie Hansen 
Tech heads:
Stage Manager – Abbie Allred          Master Carpenter – Cruz Colvig     Paint Head – Ben Hinkley
Sound Head – Alice Costa      Mics Head – Katelyn Bowie        Props Head – Maggie Williams
Lighting Designer – Ayana Glass     Master Electrician – Otto Casselberry 
House Head – Avery Edgar and Lucy Flores              Costumes Head – Sora Pearson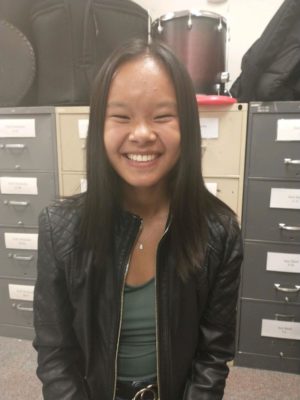 Q: What would you say is your favorite part of the troupe? Any favorite memory, favorite show, favorite part in general? 
 Katelyn: My favorite part about the troupe is probably just like the community it's created. I also just really love performing and I think we put on really really good productions for a high school. It's pretty impressive what we do in my opinion. 
     Q: How are you enjoying rehearsal for Anastasia? 
 Katelyn: This year is like a lot better than past years because we used to never have a schedule. We were here three hours every night even if you weren't needed. Even if you did absolutely nothing in those three hours. Thank god for Ms. Lyon. 
     Q: What would you say are some of the benefits of joining the troupe? 
     Katelyn: Just being able to hone in on your abilities, acting, singing, and dancing, and you get to meet a lot of cool supportive people. 
     Q: What about tech? What are some benefits of doing tech?  
     Katelyn: Oh yeah tech is cool. It's also not as big of a time commitment which is really nice for a lot of people who still want to be involved. I feel like tech could be for everyone, honestly.