Durango Steals The Win Again!
Cross Country is one of those sports that isn't acknowledged that much but it arguably is one of the toughest sports to do.  On Friday, October 7, 2022, Durango High School had a home meet at Hillcrest. The race was a 5000 meter race which is 3 miles and 188 yards. Durango High School completed a race against Alamosa, Bayfeild, Ignacio, Monticello, Pagosa Springs, Sargent, Centauri, Monte Vista, Montezuma-Cortez, Dolores, and Mancos High Schools.
The Results are as follows:
Boys: Luke Swenk (1st, 16:26.72),Nathaniel Ellis(3rd, 17:29.17), Charlie Dillman(5th, 17:43.89), Miles Snow (7th 18:01.85), Anthony Bonanno (8th, 18:06.48), Brodie Dorko (12th 18:25.06), Slader Schweitz (23rd, 19:13.58), Hudson Curry (27th, 19:33.83), Joshua Yu (28th, 19:36.20), Kefa Jerome (53rd, 22:10.04), Sheamus Maguire (59th, 22:40.91), Logan France (61st, 22:56.79), Rei Rasmussen (68th, 24:34.02)
The Durango Boys Team came in 1st place with 24 points.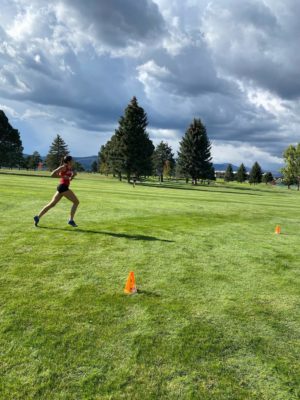 Girls: Willow Lott (2nd, 19:40.17), Dewa llg (6th, 20:23.00), Brynn Aggeler (8th 20:40.34), Nina Quayle (9th, 21:15.12), Mira Quayle (10th, 21:19.30), Sixtine La Merle (15th, 22:21.87), Aileen McManus (17th, 22:25.71), Avery Cerwin (25th, 23:34.90), Elena Forrest (31st,  24:57.07), Hannah Helms (36th, 26:11.75), Abby Bowman (37th, 26:11.86), Sophie Ragsdale (38th, 26:11.86), Hadley Denney (53rd, 29:19.10)
Durango Girls Team came in 2nd with 35 points
Ron Keller is the head coach of Durango High School's Cross Country team. Keller was head coach of Track and Cross Country for 23 years, but in 2002 he retired. Keller volunteered at the high school until he went down to Scottsdale and coached for three years. After coaching in Scottsdale, he found himself doing nothing when a Cross Country job opened up at DHS and he took it. Keller says the season is going very well, the athletes are doing good and running "very well." He says they are really getting their training in before they go to their regional competition at the end of the season, "I'm really pleased right now." The boys have done really good things this year. Keller says he trains them with speed and strength, that first you have to get your base and then you add in speed. Keller uses the analogy of an hourglass to explain that if you turn it over and it steeds out, on one side you have speed and on the other side you have strength and when they come together it is a perfect runner. Keller says the workouts are the same, it just depends on the athlete. One thing Durango does is they take 30 minutes out of practice to lift weights. "After 4-5 weeks our kids are just stronger," Keller says, "the weight lifting thing is a big thing to me."
Maddie Obernesser is an assistant coach on Cross Country and has been for 5 years now. Obernesser's job as an assistant is to help out Keller with whatever he needs. Obernesser said that it's really fun because they get to run in cool places like Hogsback, especially now that the leaves are changing, it's a nice and beautiful view. Obernesser said the season is going really good and boys and girls have taken home the win way too many times to count, "The team is looking really strong, and getting stronger everyday." Obernesser said her favorite place the team has been this year has been Salt Lake City because she hasn't been there before and it was a new experience. There was also a race in Canyon City that went over the Royal Gorge Bridge, "Yeah, we go to a lot of cool places." Obernesser said they have a really good team with excellent kids and good people all around them.
A Cross Country meet is different then other sports because when you have a football game you just play one team. At a Cross Country meet you race against a whole bunch of different schools, which is exciting because you get to meet a whole bunch of new people from different places around Colorado and other states. It is also unique because you get to run in more diverse places and aren't just stuck on a field. Cross Country is a different sport than most but is one that should be recognized because the athletes work really hard to combine speed and strength into a long run. Although the sport sounds taxing, the team environment is positive and uplifting and trying out could be a worthwhile experience as Cross Country could benefit you in other aspects of life.
Keller and Obernesser both said their favorite part about coaching is seeing the athletes grow and progress throughout the season and the year they run Cross Country.
Follow the Durango Cross Country and Track Team on Instagram @durangotfxc!