Book Review: "Daisy Jones and the Six" by Taylor Jenkins Reid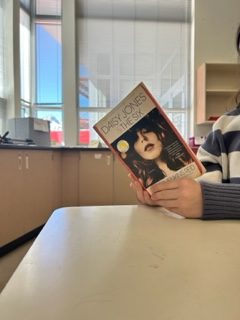 TRIGGER WARNING! This book contains drug use and mature content.
"Daisy Jones and the Six" is a novel about a woman named Daisy who loves to sleep with rock stars, go clubbing, and dream about being a star in the late 1960s. She is noticed by a band called the Six, starring the lead singer and guitarist Billy Dunne. When Daisy joins the band they all become a hit, but drama gets in the way and the band falls on hard times.
This well-written book encourages the reader to attach to the characters' stories. At the beginning of the book, the plot is regarding the development of Daisy and the band, switching off points of view. The middle of the story shows the characters' struggle while trying to keep the band together and a success. Billy Dunne (the lead guitarist on the Six) faces the problem of saving his marriage while being an addict and alcoholic and taking care of his children. The characters Graham and Karen (the bass player and pianist of the Six) share a secret from the band; meanwhile, Daisy struggles to develop new songs and is debating whether or not she should leave the group. Eddie (the rhythm guitarist of the Six) argues that the band had "gotten into more pop music than rock" and wants to go back to their "old roots." The ending is also critical. Many events happen that showcase the drama that almost breaks the band apart. Daisy falls for Billy even though he is married and has three daughters. Throughout the book, when the band is out winning awards and going on tour, the reader can take a second to realize the toxic management the whole group was under and how that caused conflict.
I enjoyed how Taylor Jenkins Reid enforced the concept of toxic management of celebrities in the show business industry. This story shows that on-screen or live, at a concert. Celebrities are living the dream life of lots of popularity and money and a royalty-like lifestyle. But, in reality, stars face the same problems as everyday people experience in their lives.
Overall, this book is terrific. The characters have inspiring development, and the plot has its ups and downs but stays to what the story is themed around. I highly recommend reading this book.