DHS Student Body Attire: Spirit Week and Homecoming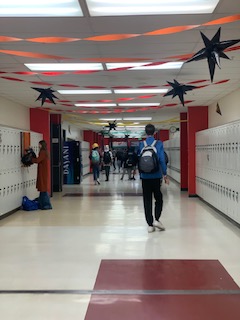 What are you wearing to homecoming? What about spirit week? If you need inspiration, some DHS students have decided to share their plans for their homecoming week ensembles. 
Zoe Golden, a sophomore, says, "…I've got three dresses right now…one of them…[is] neon orange…my other dress comes today and its…black and [has] spaghetti straps…[and] a green skirt but I can tell she's…going to be…too long…and then I have this red strapless dress that I might wear…and then I want to get these chunky…black heels that have feathers…on the toe strap and then I'll probably curl my hair and… I got little crystals for…my eyes… I can't do makeup, so."
When asked about what she is wearing for spirit week and if she is going to get dressed up, she said, "I don't know yet…like the neon thing for Friday…I'll pull up, I have a lot of neon pink…[stuff] I will wear and…the grease [day] I'll pull up in like some leather…stuff…and I don't remember what the other ones are…maybe I'll dress as Adam Sandler…(for character wear)" 
Luke Elias, a freshman, is not able to go to homecoming but for spirit week he has said, "…for Monday…I'm doing…neon colors…kinda the same thing for friday… I have to see what I have…for the grease one I'll try to wear like dark colors…blacks…other than that I don't really know…". 
Hazel Seashore-Botha, a junior and one of the school spirit directors says she plans to wear a "…brown slip dress and…white gogo boots…and…a ton of gold jewelry…" to the homecoming dance. 
Her plans for spirit week are as follows, "So, the first day: 'mad groovy Monday' I'm gonna wear brown flare pants and…a flower power t-shirt and maybe some of those like flower crowns…you know very like 70's, probably like my converse, stuff like that." 
"And then Tuesday is 'y2k Tuesday' and I'm struggling with that one… I have no idea what to wear but I'm thinking probably jeans and a tank top maybe…some bubble braids would be cute, very bubblegum, very like y2k…that one I'm kinda struggling with, I feel like it's a little bit hard." 
"And then, Wednesday's my favorite: 'character wear Wednesday… I'm gonna be Hannah Montanta, so I have…a Hannah Montanta shirt that I'm gonna wear and I'm thinking like a blow-up microphone or something like that. And then… get your grease on Thursday' I'm gonna wear black jeans and…a leather jacket…and then some sort of black tank top… I think that'd be cute, I feel like that one's pretty straightforward, pretty basic, maybe like Aviators and slicked back hair, that would be cute."
"And then Friday is funky neon Friday, I'm so excited! I'm gonna wear some sort of neon shirt and I have these bright pink shorts that I'm gonna wear, I think it'll be fun and I know somebody who has rainbow socks and I feel like that would be so cute…Vivian (Vivian Pinkerton, the other school spirit director) and I are going to do our hair in…bubble braids with neon…little rubber bands in them, you know, feels very on theme and then probably something similar for the game. I have…neon glowy tridents and neon glowy bracelets which will be fun and yeah, that's what I'm wearing for spirit week!"
Ruby Jane Tanaka, a freshman, said for homecoming she plans to accomplish these things: "…[for my] hair I'm going to do…curls…and then…a waterfall braid…light makeup…mascara, a little bit of lipstick, maybe some eyeshadow and then I don't think I  am going to wear any jewelry…but I might wear some silver earrings with pearls in them. And then…my dress, [a]…blue one…it's really pretty and I'm thinking I'm going to wear these cool high heels…more like low heels hahaha…". 
For spirit week she said,  "I think I might dress up for a few of them but it's not… going to be huge, like a 'going all the way thing'… [for] Y2K I can wear some butterfly hair clips and just like a few little accessories… [I'm] not like putting on a whole outfit, changing my hair up, doing all that kind of stuff."  
The themes for each day are: Mad Groovy Monday, Y2k/2000's Tuesday, Character Wear Wednesday, Get your Grease on Thursday, Funky Neon Friday and Hit Rewind for the homecoming dance on Saturday. Don't forget to dress up and show your Demon Pride!