The Freshman Experience: Taking AP and Honors Classes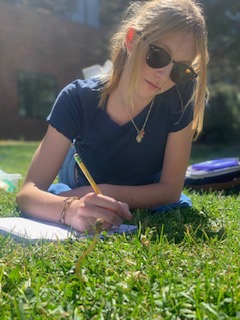 AP (Advanced Placement) and Honors classes are one of the most notable aspects of high school. AP classes are college-level classes for which you can get college credits while being in high school. They are more rigorous and have a higher amount of homework. Many highschoolers take AP, honors and advanced classes for a variety of reasons including saving money and gaining experience within a certain area.
These freshmen kindly shared their experiences with taking AP classes at DHS so far this school year to give everyone an idea of the tenacity it takes to take one.
Delia Bong, who is on DHS's student council, is taking AP Human Geography and Honors Language Arts. When asked if she finds advanced classes stressful she said, "Yeah, the workload is really hard especially because I have a bunch of other extracurriculars that I'm doing so sometimes it gets overwhelming because I have so much to do." Delia has approximately three hours of homework per night and says she would take another AP or Honors class when given the opportunity.
Luke Sandoval, who is just taking AP Human Geography, has had a vastly different experience with stress and time management: "No, I don't find the content to be that challenging… it's just a lot of busy work…" He only has 30 minutes of homework per night but says, "I do a lot of homework on the weekends." Luke says he would take another AP class in the future, "because I don't have to do as many classes when I get to college and it looks good on a college [application]." He is taking AP Human Geography right now because, "It's the only AP class there is right now and everyone else is doing it so I'm just going with that." The only available AP and Honors core classes for freshmen are AP Human Geography and Honors Language Arts because teachers don't want freshmen to get overloaded within their first year.
Molly Bertrand is currently enrolled in AP Human Geography and was enrolled in AP Environmental Science, which she dropped on the 23rd of September. She thinks college-level classes are more stressful because of "…the homework mainly, getting it in on time, studying for tests…" She has two and half hours of homework per night. When asked about taking other AP classes in the future, Molly said, "Maybe, it really just depends on the classes I'm in and my interests." She is taking advanced classes currently because, "I wanted to give myself a challenge and get extra credit." and "…to try something new." She says the reason she dropped AP Environmental Science was because, "I couldn't handle the workload and content."
Whether you are taking an AP class or not these students provide valuable insight into the ups and downs of advanced placement courses.