DHS Fall Sports Overview and Highlights
Boys Soccer:
     Many exciting events have occurred on the fields that the Demon boys' soccer team has played on this 2016 season. Both the JV and Varsity team demonstrated great skill and teamwork during game time all over Colorado. The Varsity team came away with eight wins and one loss after playing nine games. JV has played ten games, resulting in four wins, four ties, and two losses. One of the highlights of the season included the new decision to have varsity begin practicing at the brand new sports stadium that has just been finished at the high school.
Boys Golf:
This fall season, the golf team at DHS made some fantastic wins and truly showed how a Durango Demon plays golf. The team itself ended up ranked tenth in the state out of sixty-four schools in the 4A division this year. They took fith place at regionals out of fourteen teams and sent Sr. Lucas Robbins to state after he shot a 76. Caleb Newman just missed going to State by one stroke, shooting an 81, and Ryan Genualdi shot an impressive 82 at that competition as well. Season highlights include the two impressive wins in Pagosa and Cortez, where the team showed an impressive amount of persistence and technique.
Girls Volleyball:
     Each of the girls' volleyball teams have made an exceptional progress this season, both as a team and overall skills. Freshman volleyball has played fourteen games with ten wins and four losses, JV has played nine games with six wins and three losses, and Varsity has played nine games, with four wins and five losses. JV coach, Marni Keresey said their overall highlight from the season was unifying the team on and off the court. It is exciting to think about what is in store for the Lady Demons next fall.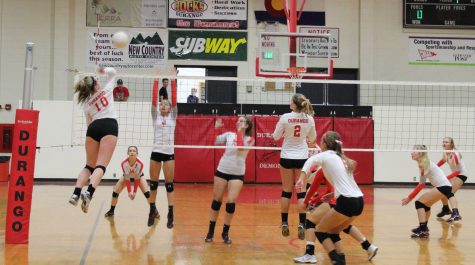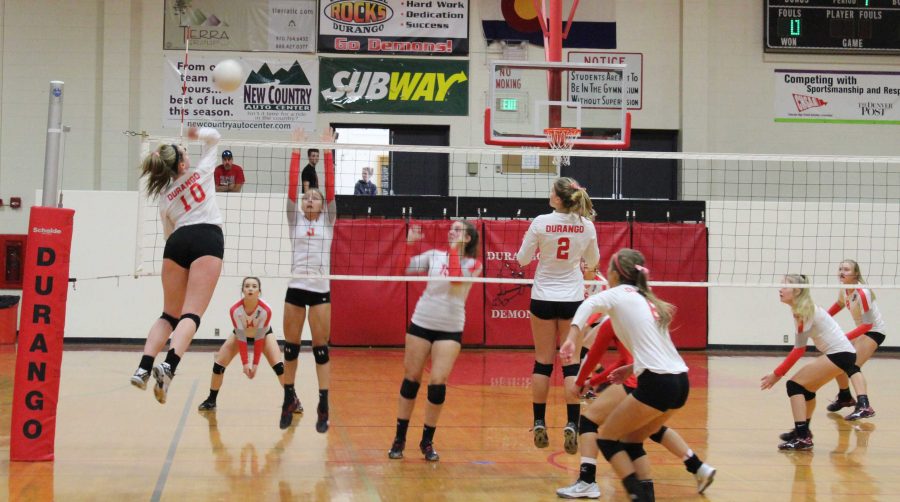 Cross Country:
After winning state last year, the Durango cross country team has had some impressive meet performances this 2016 season. Starting off with the boys, although the effort was high,  the JV team has only procured a single first place win at Ancient Trails, a race held outside Cortez.  The Varsity Boys' team have yet to win a meet title this season, but they did come away with 2nd place at South West League meet. The girls JV team on the other hand has shown what hard work leads to. They are unbeaten, and have won all three meets that they entered. Varsity girls have run in five meets and have come away with an exciting three wins.
Cross country coach David McMillan feels that one of the highlights this season was, "the girls team is transitioning into a fiercely competitive group of athletes," said McMillan.
Great leadership, competitiveness and motivation is what makes a team perform up to the highest level, these are exactly some of the things that the DHS cross country team demonstrates.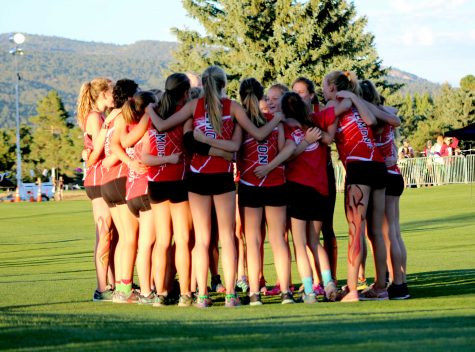 Football:
     Both the Varsity and JV football teams have shown incredible skill and teamwork during games, whether in the first five minutes or last thirty seconds of overtime. This season the Varsity team has come away with three wins and two losses. The JV team has four wins with only one loss. One of the highlights of the season was playing and beating the Bayfield Wolverines during Homecoming week for the first time since they last faced off eighty years ago in 1936.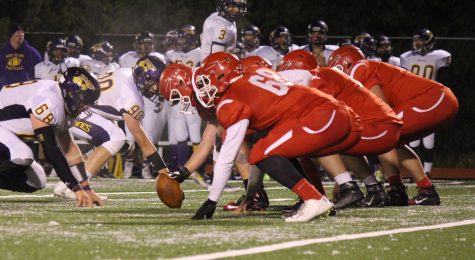 Girls Softball:
     With their season coming to a close, the girls softball team has displayed amazing work ethic, and they have come a long way since the beginning of the high school season. Varsity has played 14 games and ended up with 3 wins and 11 losses, JV has only played one game but managed a tie. A highlight from their season includes learning how to overcome adversity as individual players and as a team overall.
Boys  Tennis:
     The 2016 boys tennis team has played a lot of great matches this season. Many of the players singles players on the team have displayed a tremendous amount of effort and their result demonstrate their hard work. Over the course of the season, there has been eight matches, two tournaments, and six duels. In singles  matches, the Demons have won six games and had only two losses. Each doubles team has won two and lost six. The highlights from the season were the four home matches and the two wins during a home weekend, which allowed JV to play as well.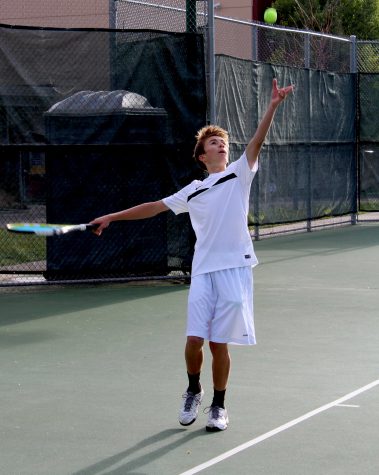 Leave a Comment