Schooling The Art World
The eyes are the windows to the soul, for most. For Fr. Aubrey Hirst and Sr. Julia Ion, the beauty of the soul is seen through photography. Recently, Aubrey and Julia won Scholastic Art & Writing Awards for their photos that Digital Photography teacher Ms. Mondino submitted to Scholastic Art & Writing.
"It's the most pristine art award in the whole nation. Since they won Gold Keys, their [photographs are] now in Denver being judged for the national level, and will be on display up there for about a month, which is big, it's pretty much the most prestigious? art award you can get," said Mondino.
The photographs Hirst took wowed the judges; they gave her two Gold Key awards and one Honorable Mention. The titles of the photos that were submitted were "Who I Am" (Gold Key), "Branded" (Gold Key) and "Once Upon A Time" (Honorable Mention).
"What inspired me to take 'Branded' was how society brands you in ways, we all have a fear of stepping outside of our comfort zones, even something as little as wearing something different than you normally do," said Hirst.
Senior Julia Ion also won a Gold Key for her masterpiece photo titled "Fashionably Portland", titled after a woman she took a photo of while on a trip in Portland, Oregon.  Julia's interest sparked in photography when her dad gave her his old Nikon, but it wasn't until two years ago when she really got into it. She mentioned what inspired her to take the photo was how confidently the woman was putting on more makeup, in a busy street while tons of people were passing by.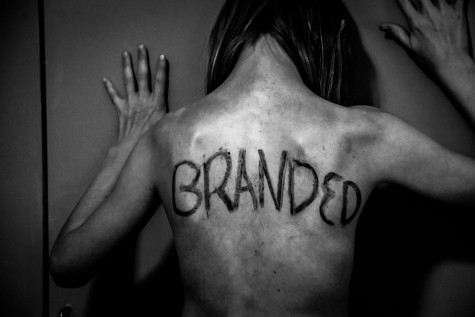 "When I first took the photo, the meaning wasn't really a part of the photo, I just thought it was cool, but now I think of it as she wasn't afraid to look the way she looked, she didn't care and she was definitely flaunting the look. I had a lot of respect for her," said Ion.
Scholastic Art and Writing Awards is a nonprofit alliance whose mission is to acknowledge students who have artistic and literary talent.  This competition is for students from 7th-12th grade and has 29 categories into which students can submit work  with the chance for it to be published, displayed or selected for a scholarship. Digital Photography teacher Mrs. Mondino said she has been entering her students in this competition for about nine years, and every year has won something. Teachers are only allowed to submit twelve pieces of art for the entire competition.
"You can win Gold Key, Silver Key, Bronze Key, and an Honorable Mention, so Gold Key is like the top of the top, and I'm pretty confident that the strong messages their photos display will definitely be something the judges are looking for behind the photos: a meaning," said Mondino.
Aubrey said photography is definitely something she would like to keep in her life, and have as a hobby for the future. However she has other careers in mind to pursue in her future, most likely law. She also mentioned submitting one of her new photos to an art show at The Open Shutter, a gallery in downtown Durango.
"I have a very specific style, and to me, it's more of a step outside of the box and it shows in my photos, that's why I'm submitting an inspired photo but with my own twist on things," said Aubrey.
As for Julia, she has applied and has been accepted to Cornish College of the Arts in Seattle, and wants to pursue some form of art there for her career.
"It doesn't se
em natural for me to go to any other type of college or a university, it wouldn't be an option I'd think about," said Ion.
As for her senior year, J
ulia is taking four art classes: advanced photography, drawing, painting, and advanced ceramics.