Syrian Refugee Day Takes over Atlas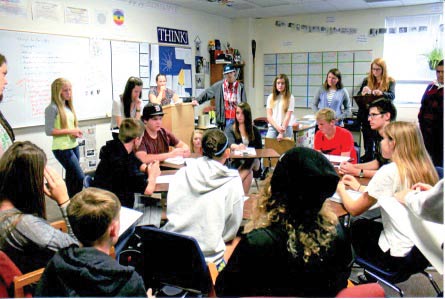 So far the school year has been full of interesting events in small learning communites, including Global Context Day. This event took place in the Atlas SLC, and was a time for sophomores and freshmen to discuss the Syrian refugee crisis.
Sophomores and freshmen were grouped randomly and assigned to multiple classrooms and teachers. From there, they formed smaller groups of about four. Each of those groups were assigned a country to represent. They were given time to research and then to discuss with the other representatives then they built a statement illustrating their plan.
The goal for this event was to learn collaboration skills and create a global understanding for Atlas students.
"The Atlas teachers wanted students to work on Learner Profile attributes, international mindedness, and transfer of skills. We also really wanted it to be a time for freshmen and sophomores to work together," said Kopack.
Atlas freshman Cassandra Blau liked the overall experience. However, she did have some problems with it. "The teachers  didn't really know what was going on, which made it more confusing for the students. Also, it would be nice to have more organization with the grouping, to make us more productive," said Blau.
Kaitlyn Noble, another Atlas student, did not like the event, however she did like working with both sophomores and freshmen.
"I would much rather do team-building activities or something fun like that," said Noble.
The teachers know that there were some problems, however they are excited for the upcoming Global Context Days.
"We have received some accolades and some areas to improve. With the next one, we want to increase the fun factor, because that was one of the arguments the students had," said Kopack.
Freshman Lydia Schertz thinks that next time it should count as a grade.
"The students didn't take it seriously enough. I think that all the countries should have been represented as well, because we didn't get a full discussion," said Schertz.
All in all, Global Context Day was a interactive and fun event, flaws and all.