DHS Students Have a Passion For Fashion
Whether it's a pair of nikes and some sweats, a romper and some flats, or a pair of Louboutin heels and a saucy dress, fashion has been a way for individuals to define who they are for a very long time.  Fashion trends are constantly developing, and DHS has some trends of it's own as well as some styling students willing to share their own definition of the word 'style' with the community.
Style, by definition, is a distinctive appearance, and therefore each person's own specific style is often specific  to who they are. Durango High school sophomore Ty Westcott believes strongly that style helps define who you are, Westcott always dresses in casual-comfortable attire.
"I like to keep it laid back but classy, My favorite thing to wear are my sanuks, they're comfy moccasins, honestly fashion is my everything," Westcott said.
Here at DHS there are planty of emerging trends, whether it's students trying to catch up with current fashion or creating a new style.
Freshman Lance Kemp  just tries to keep things fresh. "If I could describe my style in three words it would be, pretty dang cool," said Kemp.
Senior Mimi Razma claims to see a lot of the t-shirt dresses here around DHS, "Definitely seeing t-shirt dresses every corner I turn, or cuffed jeans with socks and boots, and the regular I woke up like this outfit," Razma said.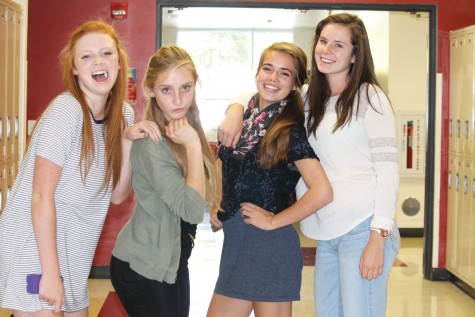 Local boutique worker Karri Last Name? noticed, "We sell a lot of waffle knit cardigans and boots when it begins to get colder, and maxi dresses and rompers in the summer," she said. It seems a lot of the women in Durango stick to similar fashion guidelines; however, many put some sort of personal spin on it.
For those mountainous and outdoorsy people, Chacos are always a popular option, "Around Durango I see a lot of Chacos and shorts, very naturey," Westcott said.
Fashion comes in many shapes and sizes, from fancy attire to running shorts and basketball shoes, and even some mountain-man getup.
Fashion isn't just a way to define a person though, for some it is way more important. To Razma, president of fashion club here at DHS, fashion is really important to her since she's considering it as a possible career.
"It shows what you want other people to see you as and how they perceive you. You can be inviting or scare people away and I think it's super interesting that we can make that decision every day," Razma said.
Fashion gives a person the opportunity  to shape who they are, and even become whoever they want to be, it is an outlet for creativity.
"I remember when I was kid and everyone was into ripped up jeans and band shirts, I've started to see that make come back, the ripped pants at least, it's really interesting how now a days you can tell what exactly a kid is into based on their choice of clothing." said Renae Jones
Without a sense of style people would be undistinguished from one another. No one should live in a cookie cutter world where the creativity to be who they want is put on the back burner.
Sidebar: Something about fashion club meetings?