Online Shopping in D-Town
There are certainly many advantages and disadvantages to living in a small town. Durango has many things to do: biking, skiing, hiking, and they're all great, but shopping is a whole other beast. Shopping is something that everyone has to do and in Durango there aren't a lot of options. Durango consists of high end boutiques, and outdoor stores, and not much else for anyone in between.
Students of DHS experiment with style, and that requires options. Online shopping is a large part of student's wardrobes.
Animas High School Jr. Hayden Stills said,"I shop online because there are no stores that offer what I look for, I do shop online more so than any other type of shopping, I think I check my shopping apps more than social media."
Online shopping isn't just for regular everyday clothes either. Students who don't want to go to the ridiculously overpriced boutiques in Durango shop online for everything from a Bat Mitzvah to Prom.
"I did buy my dress for prom online, but it's kind of sketchy sometimes, because you don't know if the size will be right or the color will be the same on the picture, but is often cheaper and there are more options especially in Durango." said Jr. Lauran Morrisey.
The wonders of online shopping are quite inspiring, but there are a couple a downfalls. Online shopping usually has the added cost of shipping and handling. It also doesn't allow for the shopper to try on the clothes before they buy them, and objects on the website may look or be totally different from their actual appearance.
The men of DHS are also privy to the secrets of online shopping with online tuxes, for the big day (prom), Jr. Chris Blevins said, "I think I'll end up buying online because there are more options and cheaper prices."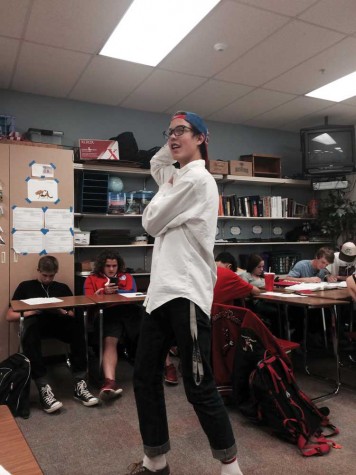 Online shopping encompasses everything nowadays, Amazon can provide anything from a new printer to fresh lobster, Jr. Chloe Ciotti said, "I do shop online, sometimes because it lets me get exactly what want and has a much broader variety of options. Both my mom and I will buy gifts for each other online other than clothes."
The enthusiasm for online shopping does not extend to everyone however, "I don't really shop online it just seems like a time suck, plus I don't get the clothes right away," said Jr. Isaac Ducker.
Online shopping can even come in handy for those who wish to avoid the hassle dealing with shopping in general, So. Mikayla Neidlinger said, "like to shop online and do it way more often than any other form of shopping because I actually hate going shopping, I get too impatient and bored."
The wonders of shopping online seem to be never ending, with online shopping anything is possible and living in small town Durango, doesn't seem so bad after all.