Girls Swim and Dive Drown Out the Competition

Even with a disqualification in the first event at Western Slope League Championships (Feb. 6-Feb. 7), the DHS girls swim and dive team swept away the competition, winning the meet by 75 points.
"We performed really well as a team, and that was the biggest attribute we had," said Animas High School Sr. and captain Bryn Joyner.
Despite the 200-yard medley relay (consisting of Jr. Anne Mummery, Jr. Elli Earl, Animas High School Fr. Mira Joyner and Animas High School Jr. Catherine Dellinger) getting disqualified in prelims due to a false start, the whole team was able to sweep high scoring places in other relays and individual events.
Mummery placed first in the 100-yard backstroke and third in 100-yard freestyle, breaking the school records in both events. The 200-yard freestyle relay, consisting of B. Joyner, Sr. captain HaileyWarren, Dellinger and Fr. Violet Witchel, placed third; the 400-yard freestyle relay consisting of Earl, Mummery, M. Joyner and B. Joyner placed fourth overall in finals.
The divers also stacked extreme points by placing first, second and third out of 11 overall divers. Senior Elise Tidwell topped the podium with a score of 330.25 points, followed by her sister Sr. Caroline Tidwell who earned 303.95 points. Animas High School Sr. Sarah Lawton came in next with a score of 295.40 points. All three divers made State-qualifying scores.
"We executed some very tough dives at Districts, and we focused on one dive at a time. That is one major thing that allowed us to get as far as we did," said C. Tidwell.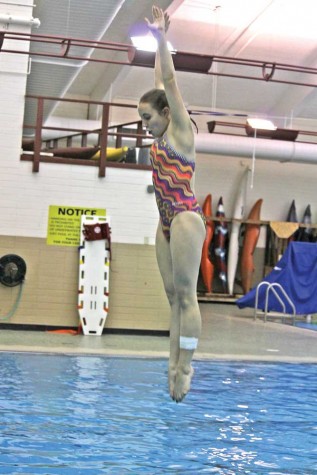 Overall, the team competed very well at Districts, and all individual and team performances contributed to the win.
"Our divers were a real turning point in the meet," said Animas High School So. Claire Larson, "they were a huge reason that we were able to win."
Just a week after League Championships, ten girls–three divers and seven swimmers–from the original 21-girl roster traveled to Thornton, Colorado to compete in the CHSAA Girls 4A Championships. In order to compete, relays and individuals had to make certain point and time cuts in any previous meets.
In prelims, the 200-yard medley relay, the 200-yard freestyle relay and the 400-yard freestyle relay, consisting of the same girls from Districts, all competed. Only three swimmers competed in individual events: Mummery competed in the 100-yard backstroke and the 100-yard freestyle, Earl competed in the 200-yard freestyle and the 100-yard breastroke, and M. Joyner competed in the 100-yard backstroke.
In finals, the 200-yard medley placed twelve out of 31 teams; Mummery placed tenth out of 34 people in the 100-yard freestyle, and eleventh out of 41 total people in 100-yard backstroke.
The three divers made it past the first elimination round and placed within the top 32 out of 40 girls.
"There are a ton of girls at State, and any relay or any individual who makes a cut and/or places at the meet is pretty awesome," said Mummery.
Overall, the swim and dive team had a very successful season.
"We had a strong season. We had a team with strong depth and a ton of motivation," said Warren.